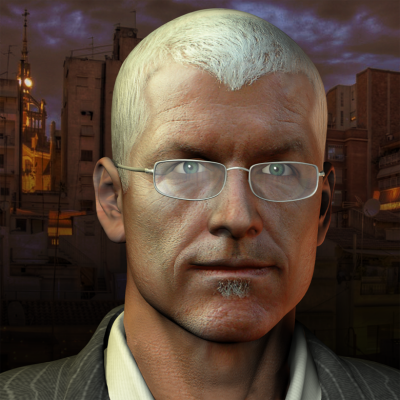 Hola. My name is David and I live in Barcelona.
I started in music helping out with friends bands, mixing the sound, roadying, recording, making posters. At around 17, I bought an Akai reel-to-reel tape deck, started reading "Sound on Sound" magazine and began experimenting with loops and recording weird sounds. So far so good but after seeing how much attention (from da ladeez) my mates were getting in their bands, I realised I needed to take up the guitar - same old story, eh?
My first guitar was a Yamaha FG10 (£100, at a time when I was earning £15 a week, so quite an investment). I still have it, although it has "seen better days". I did start taking lessons (finger picking folk at the local night school) but dropped out after a few months. My renditions of "The Keys of Canterbury" and "Strawberry Fair" did nothing to enhance my reputation with the afore mentioned ladeez and so I bought an electric guitar - a plywood SG copy - Shaftsbury or Antoria I think.
Amp-wise, I had at various times, a Selmer Truvoice, a vox AC15, a Marshal 2x10 combo and two WEM Dominators (one was blue with a V shaped front - someone stole it). Apart from the V front Dominator, all of them ended up being tinkered with at some stage, taken apart, valves upgraded, speakers replaced etc. etc. Why do we all do that? Why can't we just leave them alone, eh?
My friends and I were regulars at The Bridgehouse and The Ruskin Arms in East London in the heyday of Pub Rock and you'd always find us at the front checking out the guitar players and imagining one day owning one of those amazing cool guitars - everyone seemed to have Les Pauls then.
Anyway, eventually rock gave way to punk and new wave and, for me, working in the Tate and Lyle sugar factory gave way to studying graphic design in sunny Preston where I had dodgy punky/covers band (featuring a young Simon Ellis - Ellis Beggs and Howard and S Club 7 song writer/producer).
After college I teamed up with a fantastic song-writer who had a lot of musical friends and ended up playing with Gareth Sager and Susan Honeyman (Suzy Honeymoon - Mekons) amongst others. This was a golden period for me, but, as for most of us, the demands of work and making a proper living took precedence over being a slacker, squatting in East London's more salubrious council estates and playing arty performances in esoteric venues including Hackney City Farm and The Slade art school.
These days, I take any opportunity to jam with friends otherwise I'm mostly playing with myself.
Like Gavin and Bertram, I am prone to attacks of GAS and eBay has only exasperated the condition. My collection has ebbed and flowed over the years but now I've reached saturation point and just don't have enough space for any more so eBay has had to become a reference point to the ingenious, the inventive, the beautiful and the bizarre imaginations of guitar makers. For this my wife is happy. Although I am watching a lovely little 1950's lap steel - just out of curiosity.
My iPod contains: Die Antwoord, Big Black, Ian Dury, Tom Waits, The White Stripes, Muse, Spacemen 3, Wolfgang Press, Konono No1, Baloji, Nina Hagen, Marilyn Manson, Cocorosie, Radiohead, Japan, Elvis Costello
My guitars include:
Vox Teardrop Semi '65
Burns Split Sonic '65
Burns Double Six - New
Roland G707/GR700 '80's
Ampeg Dan Armstrong Plexi '70
Peavey T60 '83
Hohner GT3 '80s
Peavey Powerslide - New
Hofner Congress '58
Plastic Maccaferri '53
Kawai Saturn Violin shape '68
Epiphone Viola Bass - New
Univox Viola Bass '60s
I am currently learning to grow old gracefully and my hobbies now include pulling the waistband of my trousers up over my rapidly expanding middle aged stomach.
My social networks include:
http://soundcloud.com/battaolo
http://twitter.com/battaolo
http://www.facebook.com/battaolo