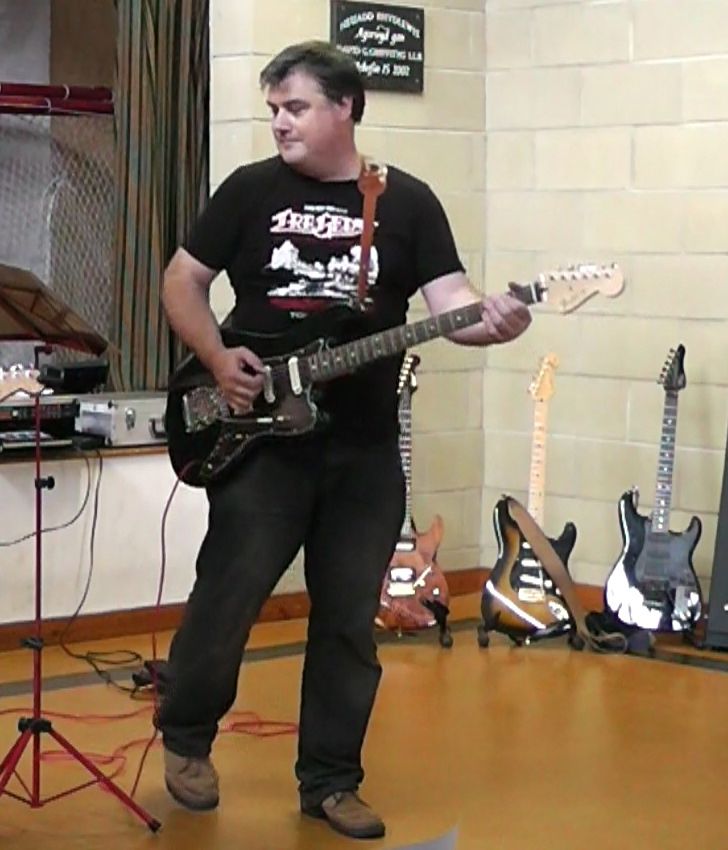 Twanging the ol' Fender Bass VI
Hi, my name is Gavin Lloyd Wilson and I am currently living in Pembrokeshire in Wales. I would never claim to be the world's greatest guitarist but I am passionate about the instrument. A few years ago I spent more of my time writing about guitars than actually playing them, but I now regularly get together with like-minded souls to play and perform. I even have a go at singing occasionally too!
I have played in several bands over the years, none of which amounted to anything much but since moving to Wales (the Land of my Fathers) lately I have played guitar and Bass VI with
The Spookers
and was recently asked to join renowned Welsh psychedelic/space-rock band
Sendelica
as occasional stand-in bassist (i.e. for those gigs that their regular bassist cannot make).
I have dabbled in home recording on and off throughout the past 25 years or so. I am currently still engaged in working on the first "proper" album release for my own
Spurious Transients
project, which hopefully will see the light of day before 2014 is out. When asked to describe my music, I usually say that it is electronic and often guitar-based experimental music veering towards krautrock. Other times I just say it's "avant garde" which is less of a mouthful. I have embedded several YouTube videos of Spurious Transients pieces at the bottom of this page for you to hear for yourselves.
I am also the author of the book "
500 Guitars
" as published by Chartwell Books. I have ideas for a second more highly-illustrated volume - if there are any backers out there interested in such a publishing venture, please contact me soonest.
You can email me with ideas for the blog, photos of your own interesting guitars (no off-the-shelf common or garden Strats, Les Pauls, etc, please), plus strange eBay finds, or general questions at
gavinlloydwilson@yahoo.com
.
Also, you can find
Guitarz on Facebook
- feel free to post pics of your own guitars or recommend items for us to include on the blog.
Music fans may also enjoy reading my record reviews on my vinyl blog at
Spirals In Wax
.
Please note that I am available for copy editing, proofreading, editorial, writing work, etc.
G L Wilson
Current favourite guitars and basses
:
ESP ETD Vintage 214 fretless bass
Eko Ghost 6 (contemporary reissue of Vox Phantom 6)
Aria Pro II TA-30 semi-acoustic electric (Matsumoku-made)
I do have others, which - rightly or wrongly - are less frequently used.