Here are a couple of new additions to my personal guitar collection: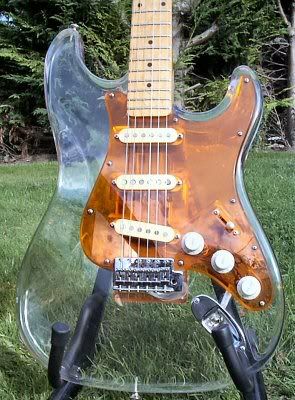 The first is this clear acrylic Strat copy by
Sanox Sound Creator
(try as I might, I can't find out anything about them on the web). It's actually quite a good quality Japanese copy from the 1970s; Nile Rodgers from Chic used to play something similar, I believe. This particular example has been well-used and shows a fair few battle scars - the perspex is chipped beneath the bridge, and it has worn frets in places, etc. However, it does have that certain 'mojo' and it sounds and feels great - it's perfect for those Hendrix impressions! I have to confess that I actually prefer this beaten up old copy guitar to my real Fender Strat (a Japanese 'Antigua' reissue from 2004).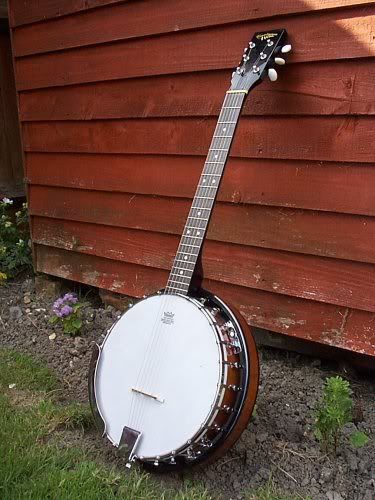 My other new addition is this Countryman guitar banjo. It's basically a banjo with a 6-string guitar neck on it, so it allows guitarists to play a 'second instrument' simply by using their current knowledge of the guitar. Sneaky, huh? A friend of mine commented that it's not a 'real banjo', but it sounds like one to me, and I can't be bothered with all that 4 and a half strings business! Anyway, it's a relative cheapy, I suppose, made in China but with an American-made Remo head, but it's very nicely built and as I say it has that authentic banjo sound.