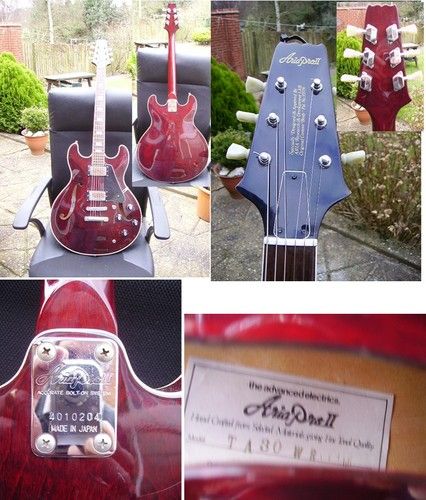 guitarz.blogspot.com
:
...speaking of Japanese guitars, here is one that is much more affordable than the guitar in the previous post, in fact I would recommend this as my eBay Buy of the Month because I have been using one of these very same guitars as my main instrument for a while now and think that it is a superb guitar. It's one of my favourite guitars ever and I don't make that claim lightly - I was trying to work out the other day how many guitars I have owned and it must be at least 60.
Anyway, this is a 1980s-era
Aria Pro II TA-30
, but please do not confuse these with the later Korean-made TA-40 guitars which also had a bolt-on neck. The TA-30 is a quality Japanese guitar made in the now legendary Matsumoku factory and is far superior in construction, materials, and in playability. (It absolutely nails that Creedence Clearwater Revival sound, if that frame of reference is any use to you!) The Korean-made TA-40 is not a bad guitar but the cheaper laminates that it is made from mean that it has a tendency to sound rather boxy.
The Japanese and Korean TAs do look very similar but there are various little details that help you tell them apart. For example, the Japanese TAs have a much slimmer body if viewed sideways-on - it's about a centimetre difference. Also, the f-holes are much more slender and ornate, whereas the Korean examples have more of a "cookie cutter" outline. The Japanese examples are often fitted with those tulip-shaped machine heads too.
Contrary to popular belief and numerous eBay listings for these guitars, both Japanese and Korean, the TA-30 and TA-40 are not "335-style". For starters the shape is slimmer and nowhere near as rounded as the Gibson guitar, but more tellingly they have fully hollow bodies and not a solid centre section as on the 335 (that's what makes it a 335).
Currently listed on eBay UK
with a starting price of £150. That is an absolute bargain for a Matsumoku-made guitar of this quality. If I was in need of a back-up for my main guitar I'd certainly bid but right now I have other priorities.
G L Wilson
© 2013, Guitarz - The Original Guitar Blog - the blog that goes all the way to 11!