guitarz.blogspot.com
: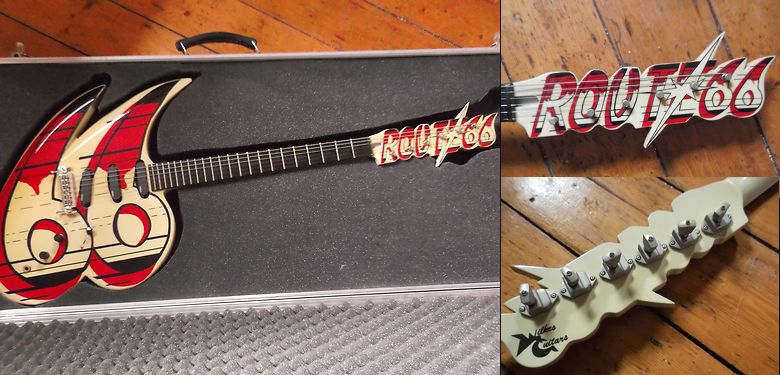 I'll let
route66don
, the eBay seller of this bizarrely-shaped
Route 66 guitar
, tell you all about it:
Unique one-of-a-kind route 66 guitar made as a showpiece for us by Doug Wilkes of Wilkes Guitars of Stoke on Trent, UK in the mid 1980s. Built to the highest spec it has a maple body and neck with an unbound phenolic resin fingerboard with side dots, EMG active vintage style strat pickups, Leo Quan Badass bridge/tailpiece and vintage Kluson Sealfast nickel banjo style machine heads. It sounds and plays great although the shape is of course somewhat clumsy to hold. Used but in very good condition. Paintwork has 'yellowed' a little and it has 2 tiny dings on the top of the '66' horns. Comes complete with a pro quality foam lined aluminium flight case by T&D cases of Hull. For sale due to my retirement at £1000.
I'm guessing his band was called "Route 66". It's just a hunch I have. [Edit: it looks more likely that "Route 66" was the name of his music shop - see the comments below.] And when he says it's "somewhat clumsy to hold" I think he means it's not very ergonomic.The banjo-style machine heads are a nice touch though.
Doug Wilkes, of course, is a luthier never afraid to experiment; regular readers might recall Wilkes' "
The Answer
" guitar with sliding pickups.
The Route 66 guitar is currently being offered for sale on eBay UK with a starting bid of £1,000.
Of course we've previously looked at another
completely different Route 66 guitar
. Curiously, it is also UK-made.
G L Wilson
© 2013, Guitarz - The Original Guitar Blog - the blog that goes all the way to 11!