guitarz.blogspot.com
: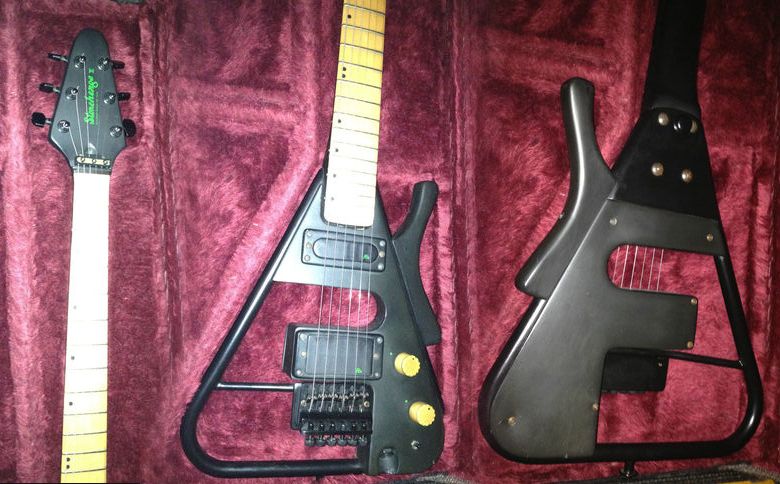 This
Stonehenge 2
guitar was listed as a new item on eBay yesterday, but today the auction has been withdrawn. Whether the Greek seller has decided not to sell or else was offered a deal outside of eBay, I cannot say. What the seller does tell us is that:
In 1984, the guitar maker Alfredo Bugari of Castelfidardo made a novel guitar with this name with a tubular metal body. The model name derives from his theories about the sound properties of the ancient English stone circle.
That description raises more questions for me than it answers; I'd like to know more about Bugari's Stonehenge theory, but then that would be getting away from guitars, which is what this blog is all about.
The seller also mentions that it's one of only 150 such guitars that Bugari built. Here on
Guitarz
we looked at a
Stonehenge 3
guitar back in 2009. There doesn't appear to be a lot of difference between the "2" and "3" models, from what I can tell, apart from different pickups and a completely different bridge. The bridge on the "2" that we are looking at here appears to have fine tuners - I thought it might be a trem for a few moments and then wondered where the mechanism would be; note the view from the back - the bridge has no material behind it - it makes you wonder how this affects the sound.
This guitar WAS listed with a starting price of £300. What happened to it after the auction was pulled, I can't say, but as it's such a rare and unusual piece I thought I'd share it with you. (I normally like to share eBay auctions that you CAN bid on).
G L Wilson
© 2013, Guitarz - The Original Guitar Blog - the blog that goes all the way to 11!