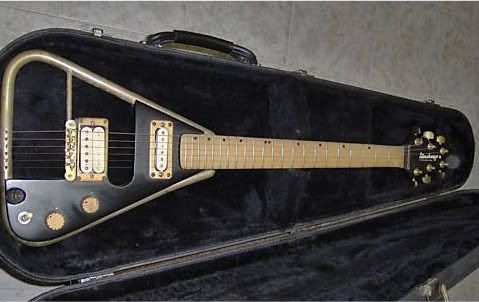 Banish all thoughts of the Stonehenge scene in
Spinal Tap
. This guitar has nothing to do with that.
I recall seeing pictures of these Stonehenge guitars back in the 80s when they were first launched - also there's photo of one in Tony Bacon's
Ultimate Guitar Book
.
This example is a
Stonehenge III
by Alfredo Bugari - I hadn't realised they got beyond models I and II as they never really took off or made a big impression to the legions of guitarists worldwide.
As you can see in the pic, the body is a simple tubular metal frame with a minimal wooden insert carrying the DiMarzio pickups and electrics. Quite what the advantage is of having a minimalistic body that is mostly air, I do not know. I can't imagine it would be a sustain monster, but am willing to be proved wrong if you know better.
This is another one to add to the list of bonkers guitars from Italy.