guitarz.blogspot.com
: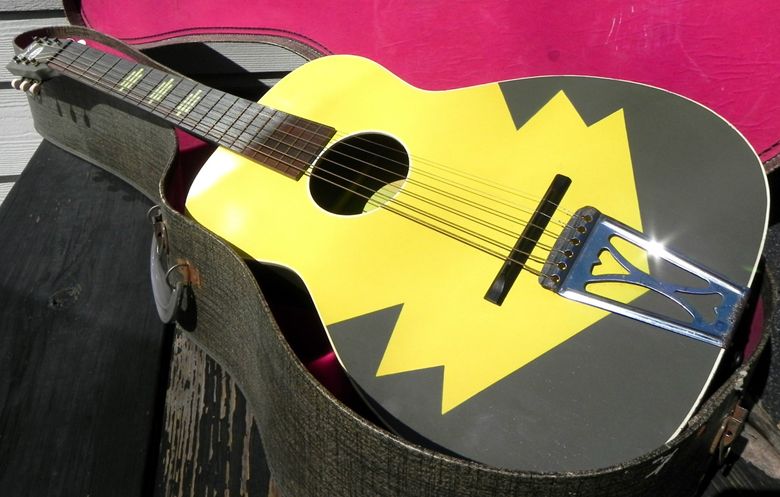 I often wish that contemporary acoustic guitar designs featured more interesting finishes. Usually if it isn't a natural finish, the most outlandish you can find is a completely black acoustic guitar - or else a pink one for girls.
Just look at this
Stella Sundale by Harmony
from 1955. Now there's a guitar that's going to get the player noticed with its grey finish emblazoned by what looks like an inverted yellow Christmas tree on the guitar's top. According to the eBay seller, "
this was an art-deco series put out by Harmony in the mid-late 1950s, and this is the rarest model, as it was only offered in 1955.
" I've certainly seen photos of other Harmony/Stella guitars from this period with interesting coloured finishes, but this Sundale has to be the most eye-catching.
These guitars are not known for their fantastic acoustic response or particularly great playability, but as an affordable guitar for the masses they are still remembered fondly by many; some players even prefer their idiosyncratic qualities for rough and ready blues playing.
This example with original hard case is currently listed for sale on eBay with a Buy It Now price of $550.
G L Wilson
© 2013, Guitarz - The Original Guitar Blog - the blog that goes all the way to 11!