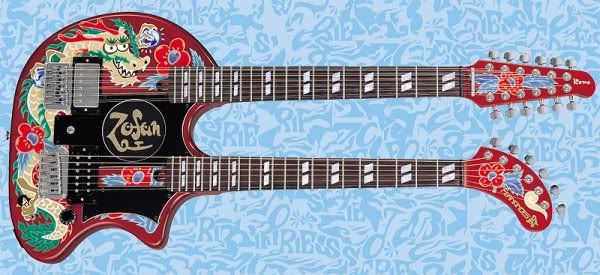 This tribute to Jimmy Page's Gibson doubleneck is part of
Fernandes Guitars
' new
Art Rock
series featuring 60/70s Rock Legend flavoured variations of their popular Nomad travel guitars (with built-in amplifier).
As well as the
Two Heaven
model shown above there is another Led Zeppelin-themed guitar, the
Kashmir
which is a Fernandes Nomad with a Danelectro DC-50 twist (lipstick pickup, "seal" scratchplate), and also one for Eric Clapton fans, the
Sunshine Love
which pays homage to Clapton's psychedelic Gibson SG. The series is completed with two basses - the
Sunshine Love Bass
and the
Ladyland Bass
.
However, the one fly in the ointment is that as far as I am aware, these are only available for the Japanese market and do not appear on the
Fernandes Guitars
website aimed at the rest of the world. I only found out about these guitars in the first place from a Japanese guitar magazine that a friend sent me. (I could hardly read a word of it, but there were lots of pretty pictures!)