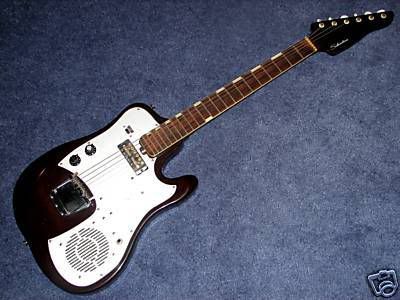 The Silvertone brand were famous for their amp in case models back in the 60s (actually
re-badge
Danelectro guitars) and here they went one further with
this re-badged Teisco guitar
which has the amp and speaker in the guitar body itself. Dating from late 60s/early 70s, this may well have been one of the first guitars to sport this feature. Does anyone know of any earlier examples?
Speaking of Teisco guitars, does anyone know what became of the
Teisco Twangers
website, a very useful resource, which seems to have unceremoniously vanished from the world wide web. I hope someone has mirrored it somewhere, or at least backed it up.