We've seen modular guitars before, but nothing quite like this
MEG Custom Transformer Guitar
.
To quote from the eBay listing:
"There's only one MEG Transformer. There's never been anything like it before, and there will never be anything like it again. The product of over 20,000 total man hours, it's destined to be the last machine prototype of MEG research and development.

The MEG Transformer is the most mechanically advanced guitar on the planet. It assumes the character of single or double neck, with the choice of multiple string configurations using three universally adaptable necks: standard six, baritone and octave twelve. The standard six has an ABM hardtail with roller saddles on a Tune-a-matic style bridge. The sustain is enhanced by the MEG design; the baritone is tuned four steps lower than the six string and has the characteristic big voice that is great for a bedrock sound; the octave 12 is an amazing experience - it has a sound comparable to an autoharp, zither or dulcimer - and it's tuned like a guitar."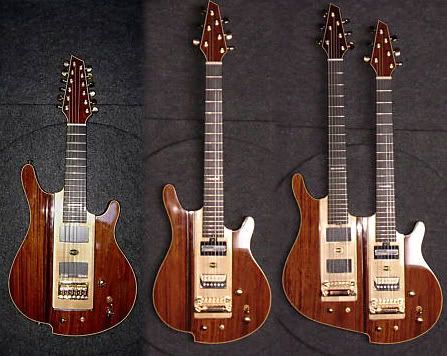 Now, here's an observation. Curiously, the interchangeable "neck tailpiece continuum" sections seem to resemble the now legendary
LaBaye 2X4 guitar
as used by Devo's Bob 1. Even the headstock shape is very similar. Coincidence?