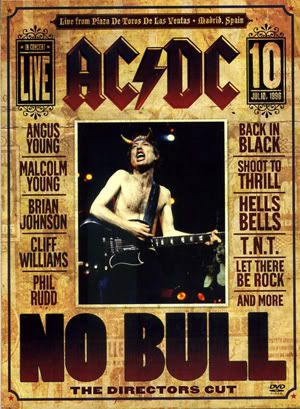 Let's face it, how much reviewing does this DVD need? With a band like
AC/DC
you know exactly what to expect: good honest, straight-forward rock'n'roll and with that all-important element of fun.
The footage on this DVD was filmed at the Plaxa De Toros De Las Ventas bullfighting arena in Madrid on the Ballbreaker tour in 1996, and was originally released to video shortly after. The director David Mallet was never happy with the results and so for this new DVD edition the film has been completely re-edited in HD and the audio remixed in both Stereo and 5.1 Surround Sound.
The results are quite spectacular, it has to be said. For starters, the venue is amazing (introducing "Hail Caesar", singer Brian Johnson comments that its the perfect setting for that song), the picture is crystal clear, there are seemingly cameras EVERYWHERE so that we get viewpoints from all over the place, and the band appear to be on top form too.
I approached this video as someone who was not a fan of the band as such, although I bear them no malice, they were just a band I'd never followed. Let's just say, I've been converted. I would have loved to have been at this show, to have seen the spectacle and have witnessed the band working their arses off!
The rhythm section - Malcolm Young on rhythm guitar, Cliff Williams on bass and Phil Rudd on drums - are AD/DC's secret weapon. Those guys are so tight and together they form the powerhouse that drives the whole band along. Brian Johnson's vocals at times resemble a strangled croak, but so what? - it suits the songs - and he has the capability to produce a dirty bluesy growl on songs like "Boogie Man".
Obviously the star of the show is the SG-wielding lead guitarist Angus Young. He is just incredible, and I marvelled at how he could play a guitar solo with apparent ease whilst bombing about from one side of the stage to the other like a demented toddler. His now legendary school uniform only lasted until seven songs into the set, when he interrupted his own guitar solo in order to perform a strip tease. Now that's not the kind of entertainment you get from the likes of Eric Clapton.
There was a fair amount of OTT theatricality to this show what with giant demolition balls, Brian Johnson swinging from the clapper of a giant bell Quasimodo-stylee ("Hells Bells"), cannons firing into the audience ("For Those About To Rock (We Salute You)"), and a monolithically pneumatic Rosie making an appearance in "Whole Lotta Rosie". Somehow all this fails to detract from the band just blasting out their own brand of riff-tastic rock'n'roll. After all, the venue's big enough for all of this.
What more can I say? I think this is the kind of thing that you're either going to love or you're going to hate. I thought it was fantastic, but all the fans are going to buy it anyway. All the big hits are there. It's well-directed, well-produced. I think it's a winner.
At two hours for the main feature I'd say it was good value for money too. Additionally the special features include a couple of bonus performances from other shows on the same tour - these renditions seem somehow rawer to my mind, and are intriguing when contrasted with the Madrid show. Then there are also the alternate "Angus-cam" versions of four songs from the Madrid show, for those of you who'd like to study his technique on a Gibson SG guitar or else to copy his trademarked "spasm".
Buy it here
.