Let's leave the NAMM coverage to all the other blogs. I'm going to continue featuring the weird and wonderful here!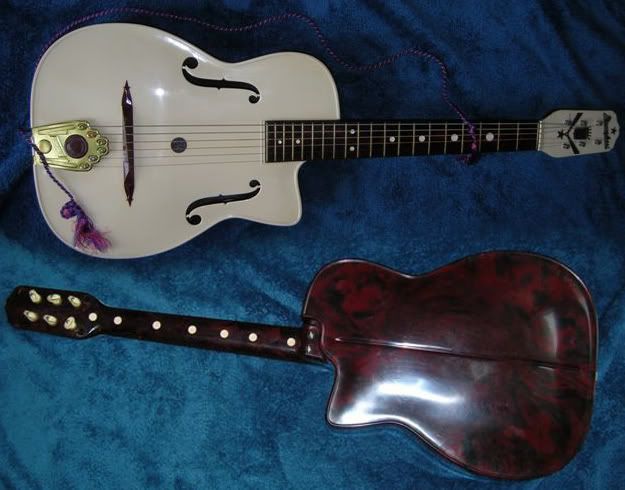 This
Maccaferri plastic guitar
is an early example of a guitar manufactured from alternative materials. I like how the dot markers on the fingerboard seem to go right through the neck and can be seen on the reverse.
According to the listing:
"Mario Maccaferri, a former concert guitarist and French reed maker, immigrated to the United States in 1939. While he continued his reed making in the United States, difficulty obtaining the reed itself led him to devise reeds made from plastic, a material that caught his attention at the New York World's Fair in 1939. He filed a patent application for the novel reeds in 1941, and it was awarded the following year. Maccaferri soon began producing other plastic consumer products, including clothespins, hangers, plastic tiles, acoustic tiles, and later 8-track and cassette housings. Before the war, Maccaferri had designed a guitar for Selmer, Paris, which became famous as the guitar of choice for jazz artist Django Reinhardt. In 1949, Maccaferri combined his interests in musical instrument design with his expertise in plastic to produce the Islander Ukulele, the first plastic stringed instrument. Priced at an affordable $5.95, the instruments were highly commercially successful. In 1953, Maccaferri introduced his plastic guitars, which were not meant to be a cheap substitute for a wood guitar, but rather a highly functional instrument that happened to be constructed from plastic. In 1964, the name of the company was changed from French American Reeds Manufacturing Company to Mastro Plastics Corporation. By 1969, criticism and slow sales caused Maccaferri to cease production of his plastic instruments, the rights to which were sold to Carnival Industries, which never elected to manufacture the instruments. Following his retirement in 1981, Maccaferri continued pursuing his interest in plastic instruments with the development of a plastic violin, which premiered at Carnegie Hall in 1990. Maccaferri died three years later at the age of 92."
...and there's a Plastic Uke too!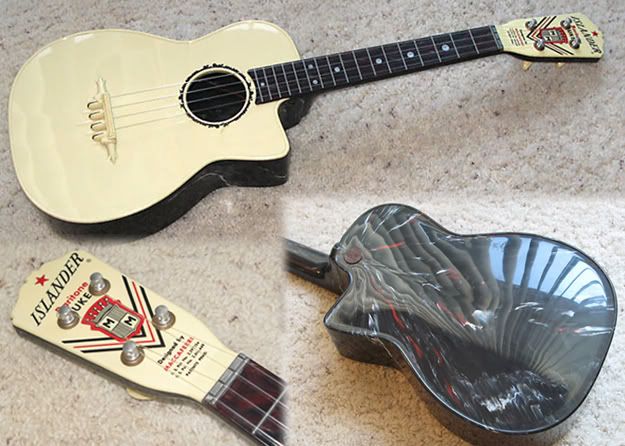 I particularly love the coloured plastic swirl on the reverse of this plastic
Maccaferri Islander Baritone Ukulele
.