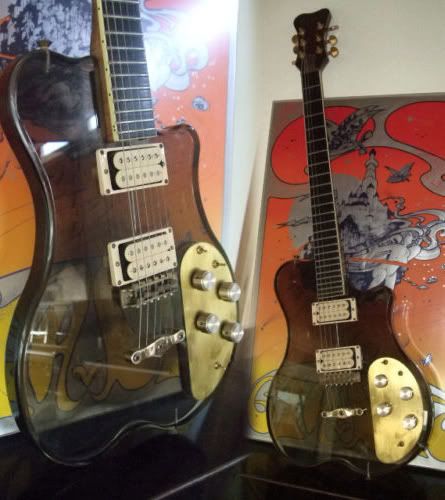 Apparently only a very limited number of these USA-made
Renaissance
guitars were built. Which might explain why I've never heard of them before (not that I'm a walking encyclopaedia of guitar builders and luthiers).
The body is made of a smoked effect transparent acrylic and has a neck of flamed maple with an ebody fingerboard. The pickups are a pair of DiMarzio humbuckers with a volume and tone control for each plus pickup selector. It would appear to have a pair of coil-tap switches also, allowing for a versatile range of sound options.
Note how the control cavity has a metal plate at the front and back of the guitar. It should be nicely screened, at least.
It's a classy-looking guitar, and with those DiMarzios in a perspex body, it should be able to scream and sustain along with the best of them.