guitarz.blogspot.com
:
Here's an instrument that I've been using a lot recently. It's one I commissioned to be built by Antony Moggridge of
Shonky Musical Instruments
and its very simplicity is a nice juxtaposition against the over-the-topness of his previous build for me, the
Shonky bass and guitar doubleneck
.
Originally I had asked Antony to build me something along the lines of the
LongBow American Classic 2-string stick bass
, which ceased production quite a few years ago. The initial plan was to borrow the LongBow's design (if something so simple can be said to have been
designed
) but through discussions between the two of us we came up with quite a different looking instrument.
To start with, it's not just a simple "stick". We decided that to accommodate ordinary off-the-shelf pickups and the electrics, controls, etc, that a small body would be a good idea, and as Antony already had experience with cigar box guitar builds, it seemed the logical step to make this a cigar box bass. My main stipulations were that it be a fretless 2-string bass, with a 34" scale length and with magnetic pickups (not being a particular fan of piezos).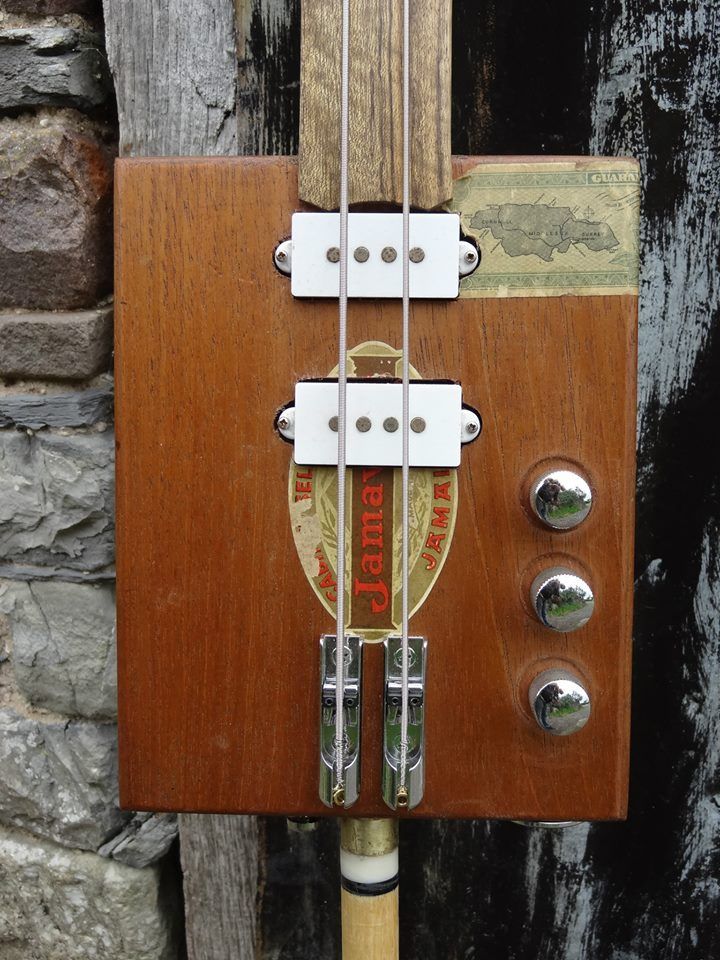 Antony had a number of cigar boxes already in stock, so I chose one from his selection, with dimensions 9"x7"x1.5" and Jamaican in origin. We opted for a tapering neck with a separate fingerboard (the LongBow's neck is parallel along its length and is one-piece with integral fingerboard). Bridges are two individual single string units which gave us some flexibility when it came to deciding upon string spacing.
The cigar box body does seem to be pretty solid. I'm guessing the neck goes right through into the body and I believe the spaces either side have been filled in too.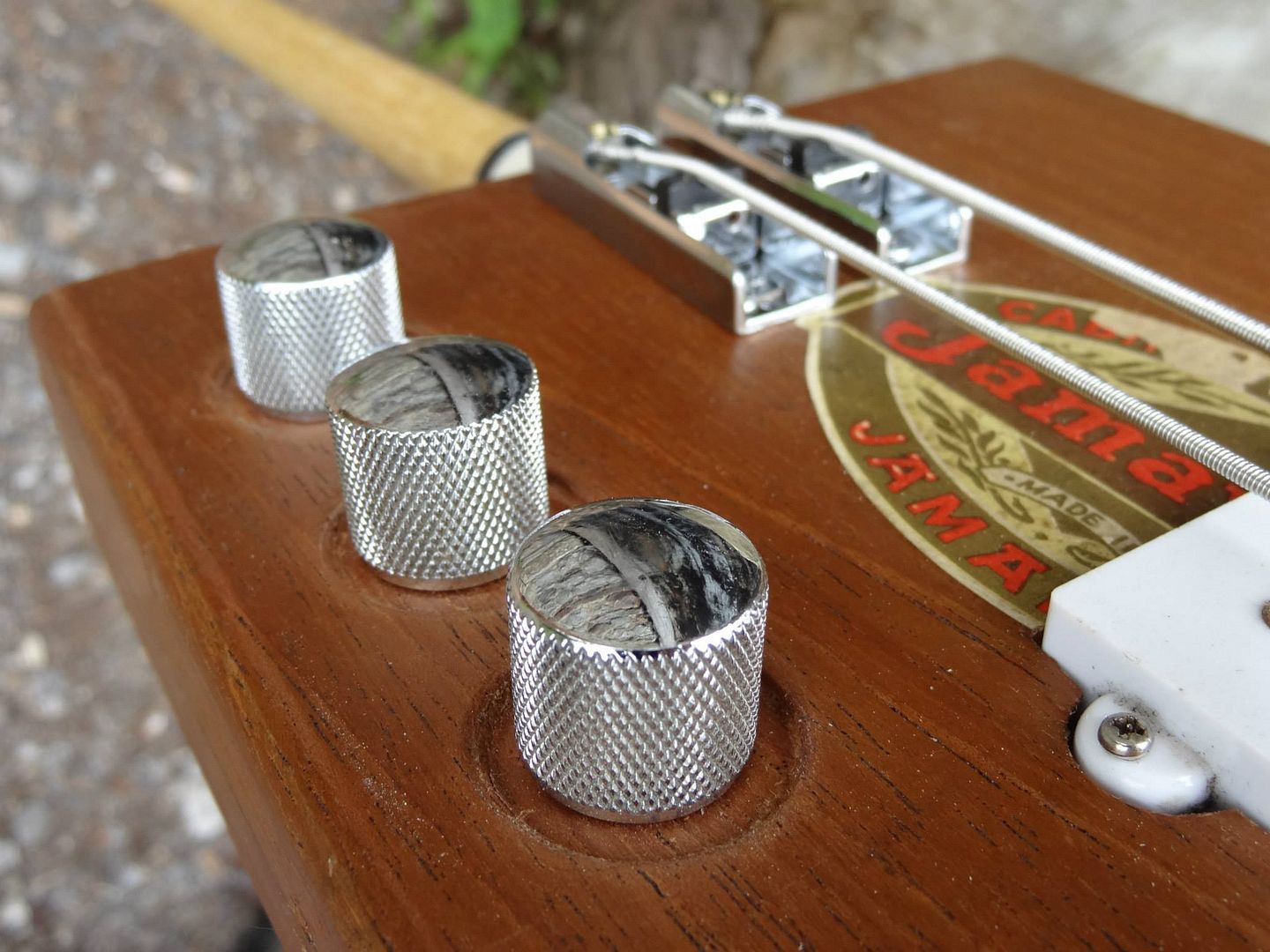 For pickups, a standard P-Bass split pickup very conveniently became a pair of 2-string pickups. Three controls on a cigar box bass does admittedly seem like overkill on such a simple instrument but I really wanted individual volume controls for each pickup and a separate tone control. I'm glad to report that this set up does indeed generate a very wide range of sounds; this bass is NOT a one-tone wonder.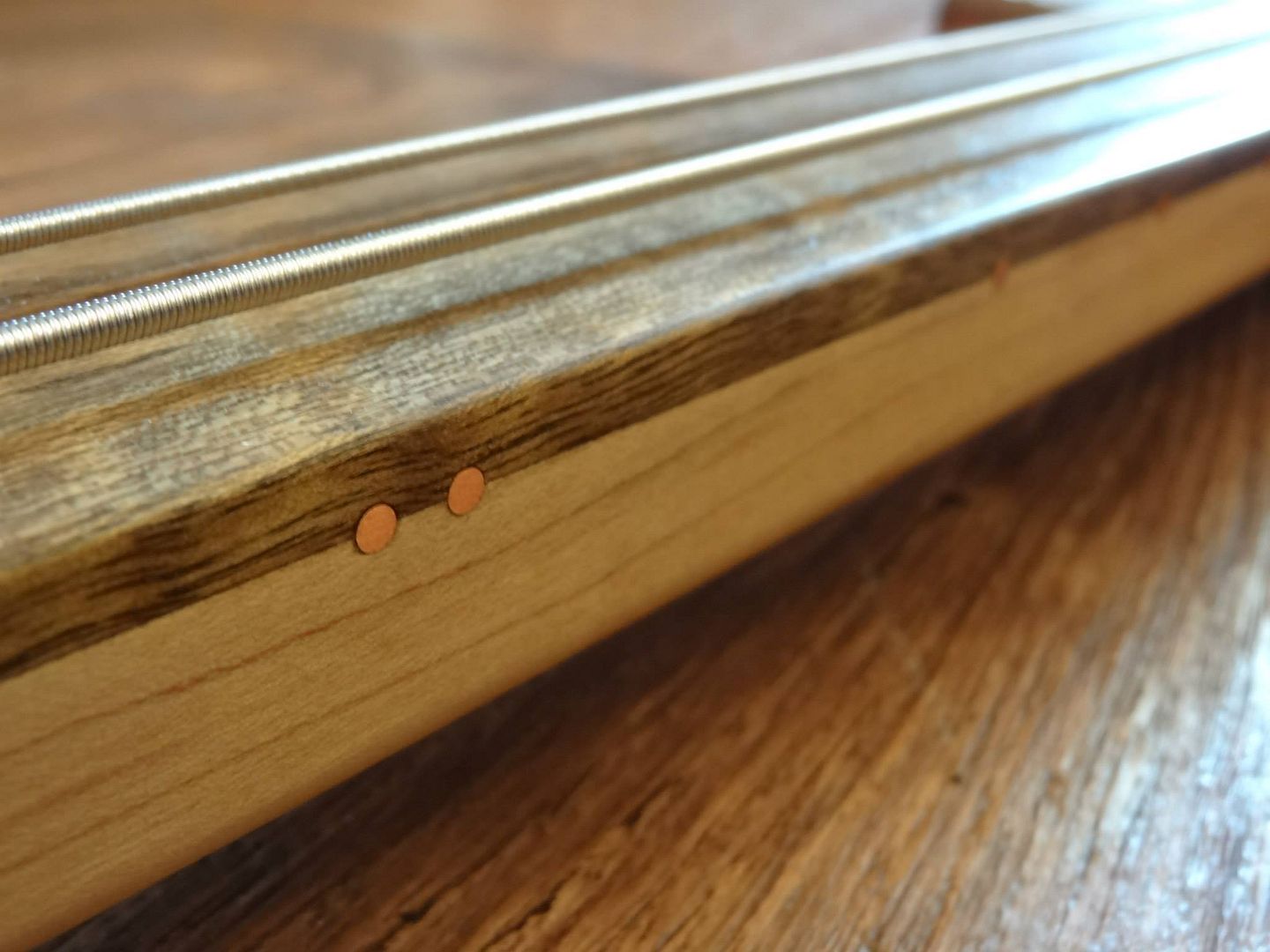 Like the LongBow, the neck is very thick and chunky in depth but Antony has rounded the back of it for comfort, whilst the very attractive piece of Sapele used for the fretless fingerboard has been left flat but softly rounded over at the edges. The neck has no truss rod either. Hopefully, given its chunkiness, it's not going to bend in one direction or the other. Along the top edge of the neck there are dot position markers in the key fret positions of 3, 5, 7, 9, 12, etc. These dots appear to be metal (brass rod perhaps?) which does look very pretty, although to be brutally honest, they are not very easy to see in low lighting conditions (e.g. as often when on stage).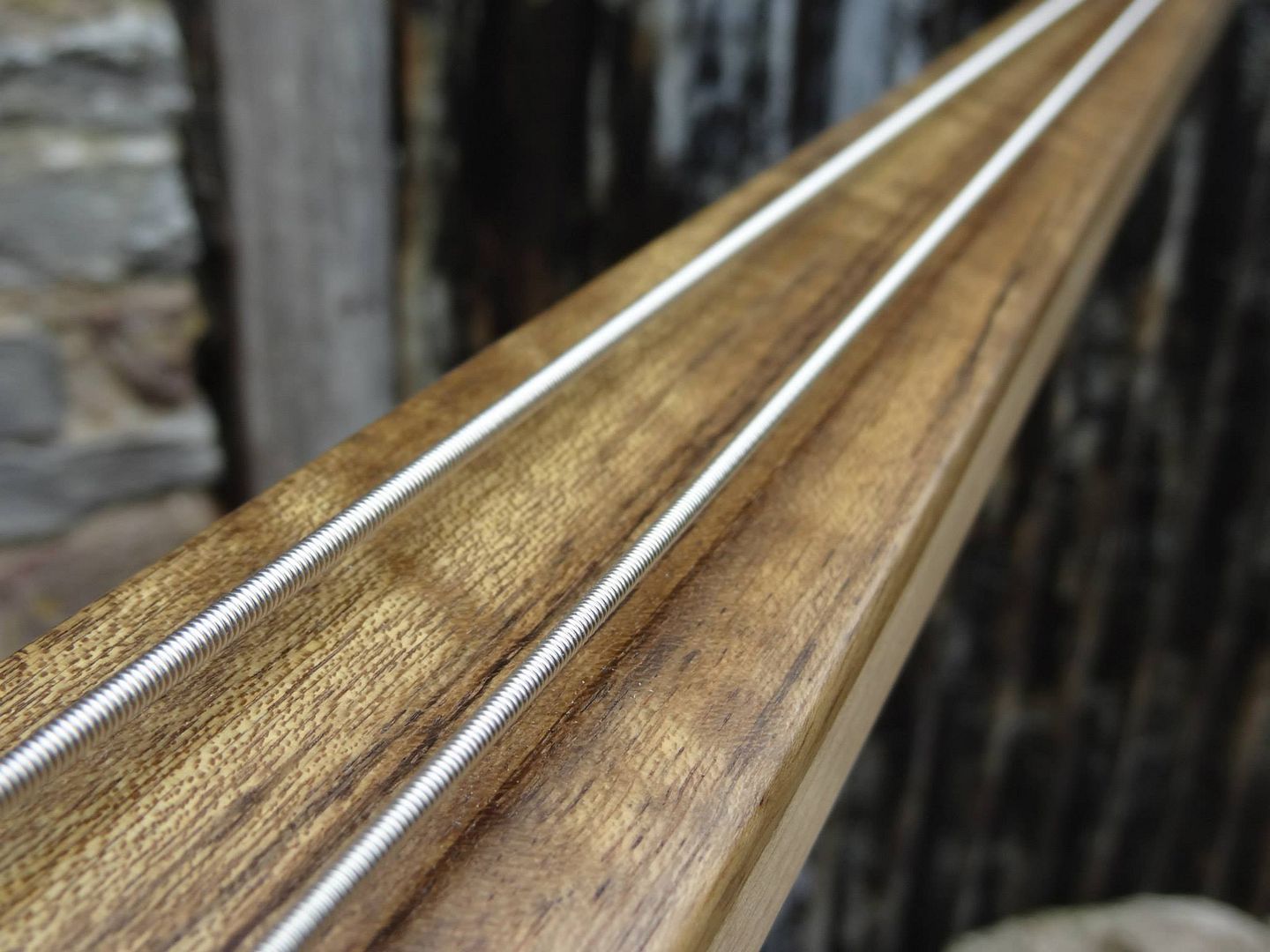 The two strings I have tuned D and A. That's a D below the low E on a regular bass. I do prefer to play in Drop D normally, and for a 2-string bass, D and A seems all the more logical because it allows for a greater range whilst at the same time conveniently aligning the notes on the D string with their respective 5ths on the A string.
So some people out there are still thinking,
BUT WHY TWO STRINGS?
Well, why not? In a way it's a reaction to all these basses with 5, 6, 7, 8, 9, 10 strings and more which so often seem to me to be ridiculous. And the thing is, you can do a lot with just two strings. This is actually a really versatile bass and because it only has a pair of strings it encourages creativity in playing. This bass is NOT all about just playing the root note.
I've played this bass at gigs a few times already. I play it with a largely acoustic-based group I sometimes perform with, and I take it with me to Open Mic sessions where I usually don't know who I'm going to be playing with or what songs; the bass copes admirably. It also gets a lot of comments from people, many are surprised by the huge sound that comes out of it. I've had the comment, "
But it sounds like a ... BASS!
" several times. Well, of course! Actually the fretless voice is quite glorious; I don't know if that is thanks to that sapele fingerboard, but it certainly puts my ESP LTD Vintage-214 FL (fretless P-Bass clone) to shame. It is also fantastic for reggae and dub basslines... quite appropriate for a bass made from a Jamaican cigar box!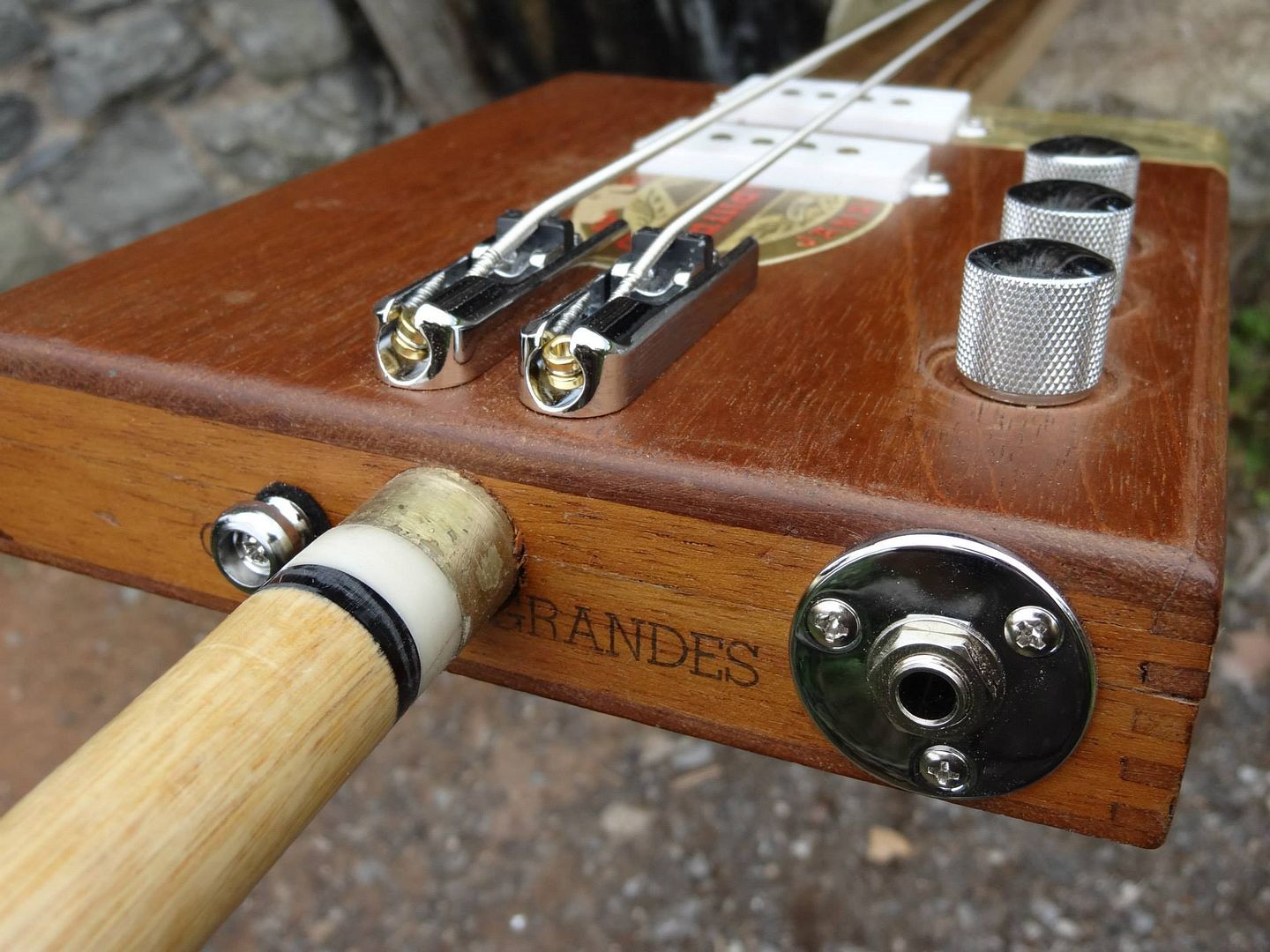 Some have commented that it sounds like an upright bass... Speaking of which, this bass CAN indeed be played as an upright thanks to a clever piece of design using the brass fitting from a 2-piece snooker cue set into the base of the cigar box - plus the business end of the snooker cue itself which acts as a spike. I have played on stage with this bass in upright mode and it feels quite liberating. Of course, with such a small body, the bass can move around quite a bit when played as an upright, so I usually position my righthand-thumb behind the heel of the neck at the top of the body to steady it.
And of course, without the snooker cue "spike", it can be played horizontally guitar style. I use a piece of string (Seasick Steve style!) tied to the strap button at the base of the body and the other end tied around the headstock. I admit, it doesn't hang particularly well, that's part of the problem in having such a small body on a bass with a 34" scale.
I absolutely love playing it and usually have it within reach at home. Of course its portability is another factor that makes it so appealing.
Such a great instrument, I'm beginning to wonder if there might be a market for the 2-string bass. Not only would it make a great learner instrument, but it is perfect for more seasoned players too and encourages inventive playing.
Antony certainly delivered the goods with this one. If doing it again, I'm sure we could tweak the design some more, most notably where balance on a strap is concerned, but that is one very minor niggle.
Photographs by Antony Moggridge Shonky Musical Instruments.
G L Wilson
© 2015, Guitarz - The Original Guitar Blog - the blog that goes all the way to 11!
Please read our photo and content policy.