guitarz.blogspot.com
: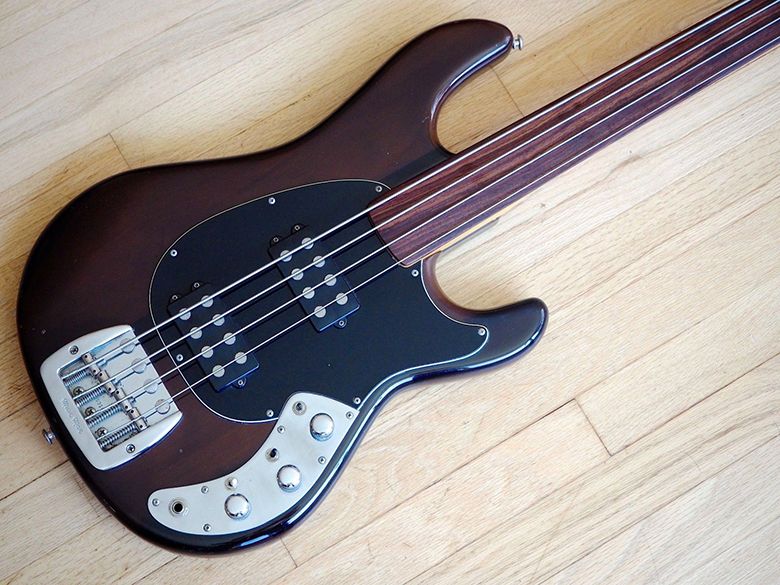 Here we see a beautiful example of the rarely seen, and some would say more aesthetically pleasing, sibling of the Stingray bass guitar, the
MusicMan Sabre
. This fretless example features two of MusicMan's own now legendary design pickups as opposed to the Stingray's single unit and also boasts its own unique preamp design, with Bass and Treble EQ knobs for both boost and cut, as well as a bright switch and a phase reversal switch, making for an incredibly versatile instrument. According to the seller's blurb, "the classic alder and maple tone wood combination [gives] this bass has a bell-like upper midrange and warm pleasing low end that translates well through the pickups, while the preamp allows you to dial in plenty of treble zing, or as much warm pillowy low end as you'd need, while also allowing you to dial back the bass for a tight, cutting, well defined sound."
Dating from 1979 means that this bass probably pre-dates Ernie Ball's acquisition of the Music Man company which happened at around this time. Certainly the headstock does not have the Ernie Ball logo (see pics above). The Sabre would have been designed by Leo Fender and Forrest White, who also designed MusicMan's other early period instruments, and the Sabre bass itself was produced between 1978 and 1991, but apparently was not a big seller.
Currently listed on eBay with a Buy It Now price of US $2,299.99.
G L Wilson
© 2016, Guitarz - The Original Guitar Blog - the blog that goes all the way to 11!
Please read our photo and content policy.