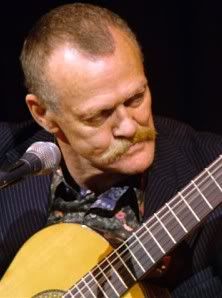 I've only just heard the sad news. The infamous and highly innovative folk guitarist
Davy Graham passed away on Monday
. Graham was the guy who inspired many other folk greats such as John Martyn and Bert Jansch. He took influences from Arabic and Indian music and experimented with various alternate guitar tunings, and reportedly it was he that developed the popular DADGAD tuning.
I remember seeing a gig of his in Oxford about 20 years ago, and let's just say it was a very eccentric performance with lots of tuning and re-tuning of his guitar inbetween the songs.
Will Hodgkinson writes about Davy Graham at quite some length in his hugely entertaining
Guitar Man
book. It seems he was quite a character!
The Guardian's Music Blog
has a video tribute page
here
.
I'm now going to give his final album, "
Broken Biscuits
", another spin in his memory.