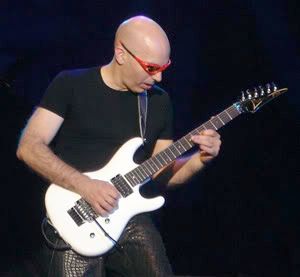 The
BBC News
reports that "
Grammy nominees Coldplay have been sued by rock guitarist Joe Satriani, who claims the band's song Viva La Vida uses one of his riffs
."
Apparently the song uses substantial original portions of Satriani's 2004 instrumental "If I Could Fly".
Whilst I'm not the biggest fan of Satriani's music, I can only applaud his decision to take the arrogant Chris Martin and Co down a peg or two.
It's not the first time Coldplay have plundered someone else's songs and presented them as their own. As a big Kraftwerk fan I still shudder everytime Coldplay's "Talk" comes on the radio, which uses the entire melody line and main riff from Kraftwerk's "Computer Love". At least in that instance Chris Martin asked persmission and having heard a thing or two about Kraftwerk's Ralf Hutter, you can bet they get royalties. (It still irritates me though.)
It makes me wonder why Coldplay's Chris Martin asked permission from one artist but not from another. Did he think the Satriani piece was so obscure that no one would recognise it? And can't Chris Martin write his own music at all?