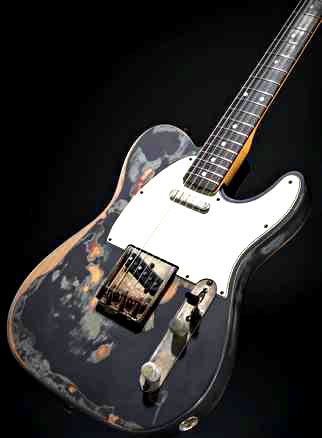 Joe Strummer, one of the founding members of seminal British punk band The Clash may have passed away in 2002, but his memory continues to live on in Fender's Special Edition Joe Strummer Telecaster. Although it was put on the market a year and a half ago, aficionados and fans alike are still seeking out the guitar and the sound that helped to herald I a new era in music.
Strummer's 1966 Tele was an icon of sorts that delivered messages, as well as that clangy punk-reggae infusion that became The Clash's signature sound. This reissue is made in Mexico, but to the same original specifications as Strummer's guitar and is set up in his same exact fashion.
The body has been distressed to appear as Strummer's Tele did after being well-worn on the road. He painted over it many times with quotes, sayings, and incendiary messages using grey primer and flat black spray paint, which wore down to the blonde finish on more than one occasion.
The first 1,500 of these distressed beauties came with a hard shell case made to look like Joe's, as well as stickers, and a vinyl LP of one of his last albums with his final band, Joe Strummer and the Mescaleros. Go to
www.fender.com
for more information and pictures.
This post was contributed by Holly McCarthy, who writes on the subject of the lists of best universities. She invites your feedback at hollymccarthy12 at gmail dot com