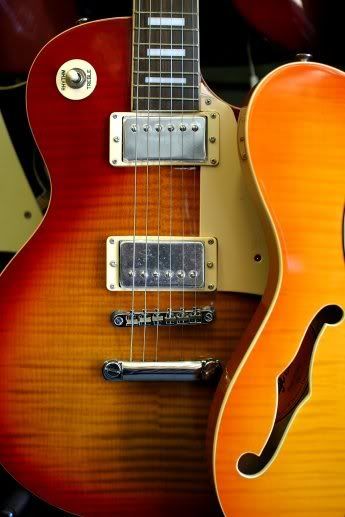 Hey guys, I'm back, but I am extremely busy with other projects right now and can't guarantee that I'm going to be able to post to this blog quite as regularly as I have been doing in the past.
Several people have contacted me with view to contributing a guest blogger post or two, and this is something I would like to encourage. I want to keep this blog moving on, so if you fancy getting involved please do contact me.
I would also feature more of
YOUR guitars
- especially if they are one-offs, self-built, luthier-built to your specifications or have interesting customisations. For the purposes of this blog, one-offs are much more interesting than off-the-peg guitars that you can find anywhere. Most of the guitars we have seen in our "Your Guitars" category were built by reader Andy Stone, so let's have a few more of you sending in your guitar pictures and stories (or you can be a guest blogger and post them yourself).
(Someone sent me their customised Tele pics a few days ago - sorry, I forget your name as I don't have access to that email right now, but I
am
going to use your piece in the next few days - thanks!)
I've also received quite a few link exchange requests recently, which I have not gotten around to doing anything about yet. Sorry, but it's been a bad time for me. I
will
get these sorted, so please just bear with me.