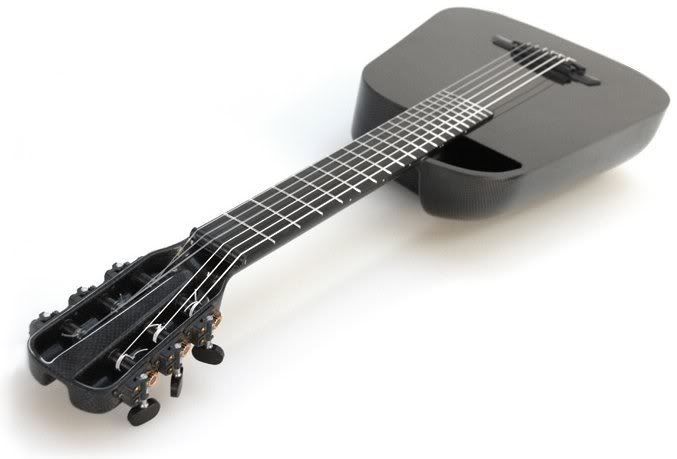 Those who read my report of the
London Guitar Show 2008
may remember my enthusiasm for an all-graphite acoustic guitar from the Rainsong brand.
Another company building carbon fibre guitars are
Blackbird Guitars
who launched the Rider Steel String guitar last year. Sporting a radical design, its small size, resistance to humidty and almost indestructability make it a perfect although not inexpensive choice as a travel guitar. It should be pretty lightweight too.
Now blackbird have announced its nylon-strung counterpart, the
Blackbird Rider Nylon
. It's a similar design although the body appears somewhat fatter and squatter that the Rider Steel. Just like the steel string, the Rider Nylon has a hollow neck and an additional soundhole in the headstock. I've not heard this in action but in theory it sounds like a brilliant idea. Having played that other carbon fibre guitar I can imagine that the Blackbird would be extremely resonant.
It's a lovely piece of design, but I think it's out of my price range.