After Fender's Tele and Strat and Gibson's Les Paul and Flying V, the BC Rich Mockingbird must surely be one of the most instantly recognizable guitar shapes out there. Over the years, the Mockingbird - like the other guitars I just mentioned - has appeared in a whole variety of guises from handmade boutique instruments to mass-prodcued entry-level guitars, and with a few bizarre variations along the way including bass and
acoustic
models.
The above-pictured
Mockingbird is custom order from 1999
. It was built by Bernie Rico for a well known industry insider (I guess someone with the initials "GP" judging by the 12h fret inlay). The customer wanted "Les Paul" specs on a Mockingbird and so the guitar features a stunning bound flame Maple top with a Mahogany neck-through, koa wings, ebony fretboard, and a scale length of 24.75.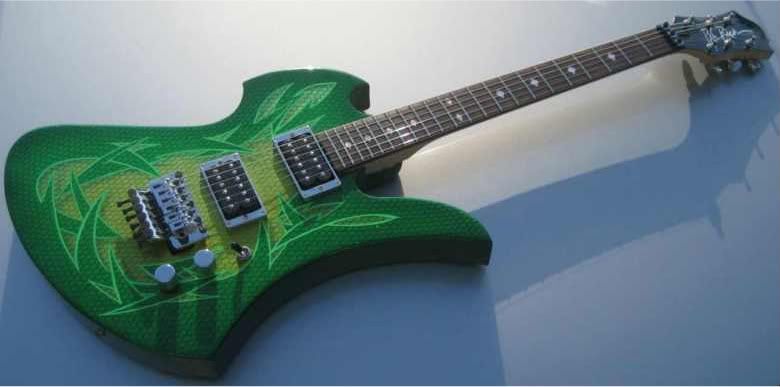 The BC Rich Mockingbird in our second picture couldn't be more different. Never mind the locking trem and the bolt-on neck, the main feature here is that this is a
metal-bodied Mockingbird
. The aluminium body features a green burst over metal flake with scales and added graphics by Nicolas, the master chopper painter of Vicious Cycles in Orlando, FL.