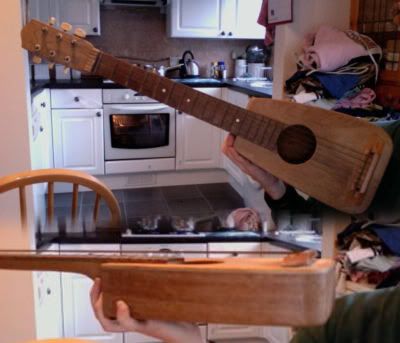 As I write this, this
small handmade acoustic
has just 3 and a half hours before its auction finishes on eBay, and bidding is currently at £15.
The seller rather curiously descibes it as a "
Handmade Lapsteel Guitar
". I can't see why he thinks it might be a lapsteel guitar as it has a round-backed neck and it has FRETS. Perhaps, he's an estate agent and used to trying to turn negatives into positives, so that when he says it's a lapsteel what he really means is that the action is horrendously high. (He does mention that the bridge has lifted).
It also appears to be strung left-handed.
It's a pity the photos aren't better, as it looks to be quite nicely made, despite the dodgy bridge.
Edit
: Sold for just £15. Someone got a bargain. Perhaps.