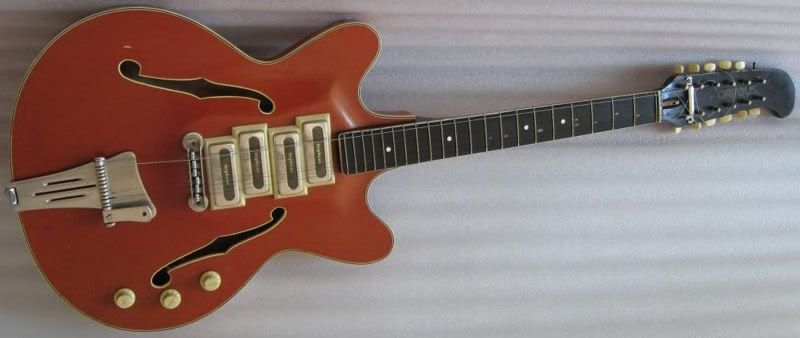 Here we have a Bulgarian-made
Orfeus 12-string semi
, which from the looks of it, I'd guess dated back to the 60s, perhaps early 70s. According to
Cheesy Guitars
, "
this guitar is made front and back out of carved solid wood=archtop
" but "
strangely the rest of the guitar isn't that high quality: bad tuners; painted fingerboard with 20 frets(and zero fret); fixed (although four) factory (with Orfeus logo on them) designed pu's and DIN-output
."
The headstock is obviously Fender-inspired so possibly the whole guitar was based on the Fender Coronado XII. I wonder why the four pickups are staggered like that? Possibly it was too much trouble to line them up accurately.
This particular model is said to be in "
playable condition
", but "
needs some repair
".
An interesting one for the collector, but I wouldn't fork out big bucks for it.
G L Wilson