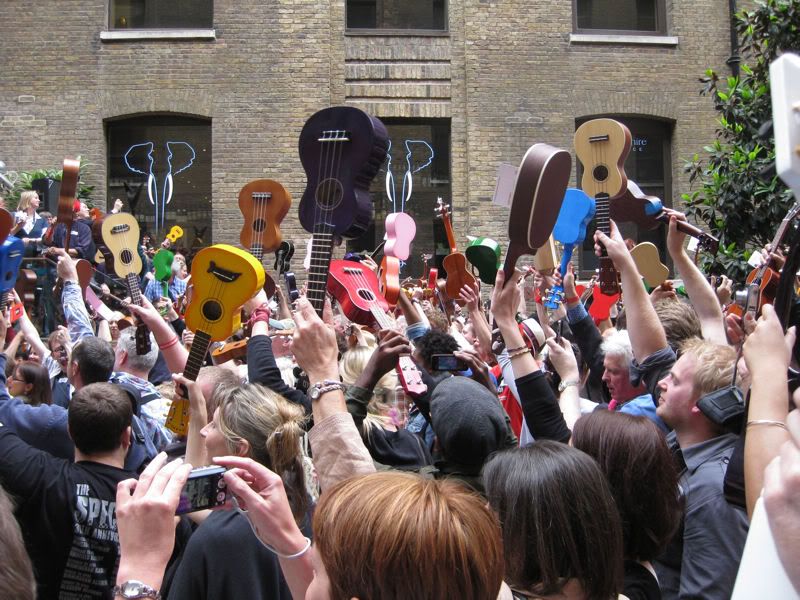 Before anyone complains (and a couple of you commenters are a bit grouchy, aren't you?), I absolutely refuse to make apologies for a post about ukuleles. Ukes are fantastic little instruments, can be played by virtually anyone who puts their mind to it, and generally are totally without any pretensions.
Anyway, to get to the point, yesterday - Saturday 20th June 2009 - in London's Devonshire Square, a gathering of 851 ukulele players set the new world record for the most ukuleles playing the same song at the same time, with a 5-minute rendition of "Sloop John B".
I was there with my baritone ukulele, and have to say that it was a fantastic and very entertaining day out. I met and spoke to lots of people and even swapped uke with a few people. It's unusual in London to be able to converse with strangers as people are usually very unfriendly and will rarely give you the time of day, but you could say that everyone at this event was united by the common bond of the ukulele.
Kudos to the organisers for putting this event together, and to all the attendees who together raised funds for Cancer Research UK.
Some YouTube videos
HERE
.
GLWilson
(I'll hand you back to Bertram following this post, as I'm supposed to be busy writing a book at the moment...)