guitarz.blogspot.com
: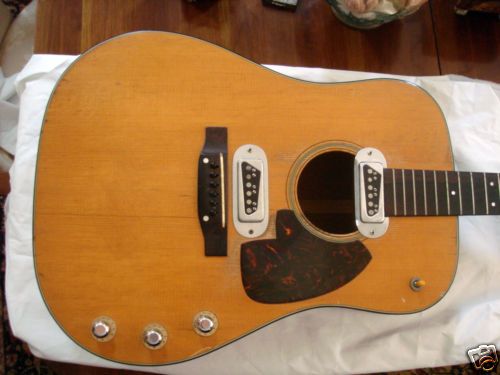 Built in 1959, the
D18-E
was
Martin
's first attempt at producing an electric guitar.
They didn't really think it through as an electric guitar from the ground up, did they? They just took an existing model from their catalogue, added two DeArmond pickups and volume, tone controls and pickup selector switch. I can't imagine all that additional hardware would allow the guitar's spruce top to resonate as it was originally designed to, but nevertheless this is one cool guitar! (A pity
this example
on eBay isn't strung in the photos).
And of course, Kurt Cobain thought so too when he used one for Nirvana's Unplugged sessions. (I've often wondered about that. It wasn't really "unplugged", was it?)
EDIT
: I've just noticed - this post was made on the 7th Anniversary of this blog - the world's longest running guitar blog! Happy birthday to us!
G L Wilson
NB: There are a lot of blogs STEALING content and bandwidth. If you read this anywhere else but on guitarz.blogspot.com then you are reading a blog that STEALS content. Please support original bloggers!