guitarz.blogspot.com
: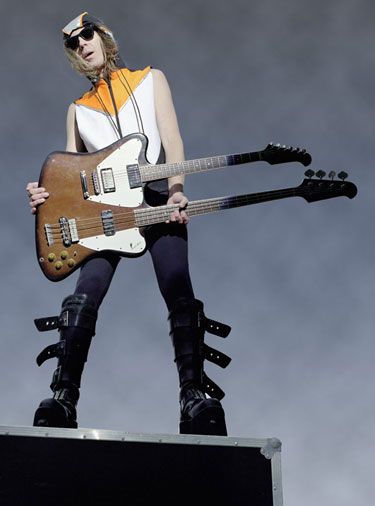 Julian Cope
is one of my all-time favourite artists and is also quite the guitar collector. One time at a gig I attended in Oxford, between songs he swapped a white Gibson SG Junior for another almost identical just because he fancied changing guitars.
Anyway, I've always wondered about his doublenecked non-reverse Firebird/Thunderbird nicknamed "The Beast" (not that I've personally seen it in action) and whether or not it was an actual Gibson or a custom build.
Earlier I stumbled upon
this interview
in which Cope reveals that "
The guitar was made by Valdez in Los Angeles in 1971, from a 1967 non reverse Thunderbird IV and a 1968 non reverse Firebird.
"
Just thought I'd share that with you.
Photo: Promo shot of Julian Cope wielding the doubleneck Firebird / Thunderbird for his CORNUCOPEA festival at the South Bank Centre, April 2000.
G L Wilson
Guitarz - The Original Guitar Blog - now in its 9th year!