guitarz.blogspot.com
: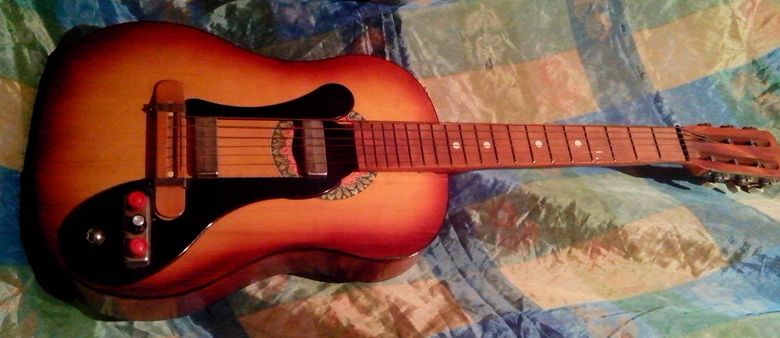 At first when I saw this photos of this
Soviet-era Russian-made electric acoustic guitar
, I thought that someone had customised an acoustic guitar in order to electrify it. But looking more closely, it would appear to have been designed this way; I'm pretty sure that this guitar was conceived this was in its Leningrad factory.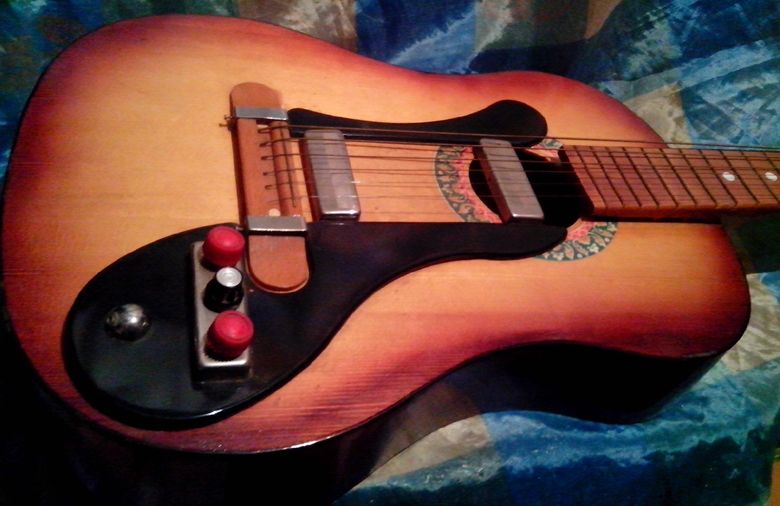 It looks for all the world like an old nylon-strung Russian-made acoustic we used to have in the house when I was a kid. I'd be surprised if it had anything as sophisticated as a truss rod; the action doesn't look too healthy in the photos. Remembering the old Russian acoustic we had, the neck angle could be adjusted via a large square bolt located inside the heel of the neck.
It's certainly a curiosity and one I feel myself drawn towards, partly because of the sense of absurdity I feel emanating from it. But what easier way for a Soviet-era guitar manufacturer to produce an electric model than to modify an existing acoustic model? I think you have to applaud their inventiveness (and bear in mind too that none other than C.F. Martin used the same approach when initially dipping their toes into the world of the electric guitar). Note also that it has TWO pickups for increased tonal options - they could have played it easy and just had the one pickup.
Currently listed on eBay with a starting bid of £39.50.
G L Wilson
© 2014, Guitarz - The Original Guitar Blog - the blog that goes all the way to 11!
Please read our photo and content policy.