guitarz.blogspot.com
:
my October 2014 blog post asking for assistance in realising my dream of a very specific doublenecked guitar and bass
, Antony Moggridge of
Shonky Musical Instruments
took up the challenge to build this beast for me. Above you can see his initial draft design following an exchange of emails in which I made clear exactly what I wanted.
My main specifications were for a doubleneck guitar and bass with the bass neck below the guitar neck; I wanted a compact body so as to keep the sheer bulk of instrument to a minimum; and I wanted the controls to be simple and uncluttered with NO switches on the upper bout or upper horn of the guitar, and no switches on the body in the area between necks - all switches HAD to be down the bottom at the rear of the instrument.
Together we hit upon the idea of using concentric pots for the volume and tone of each neck so as to save space and keep the control layout very simple. I also suggested that perhaps the design could be slightly Jazzmaster-like as opposed to taking its visual cues from the usual suspects (SG, Les Paul, Strat, Tele, P-Bass, etc).
Below you see the OSB mock-up body with bridges and necks positioned to give a better idea of what the final guitar will look like.
In the next few pictures we see the shaping, contouring and routing carried out on the centre-joined two-piece reclaimed sapele body.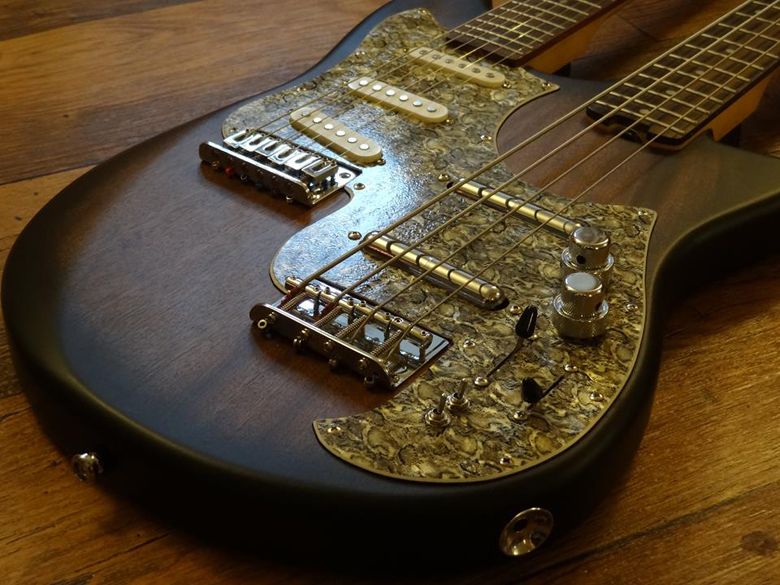 The finished item!
Antony said that in retrospect he could have made it a little lighter be removing more wood from beneath the scratchplate, and perhaps making the body shorter so that there wasn't so much wood beyond the bass bridge. But then I have to ask, would it have hung so nicely on a strap? Might that have made it neck heavy.
I played this at rehearsal with my band
Spurious Transients
at the weekend and it coped admirably. I've also been experimenting using the doubleneck in conjunction with the new Boss RC-1 Loop Station (the uncomplicated one!) and the results are very promising indeed.
I'm going to be playing some Spurious Transients gigs later in the year (including at this
Festival of Psychedelia
- hey, you can't get more prog rock than a doubleneck) and will be using this baby so I can switch between guitar and bass on the same songs.
Huge thanks to Antony (who gives his own account of the build
here
).
G L Wilson
© 2015, Guitarz - The Original Guitar Blog - the blog that goes all the way to 11!
Please read our photo and content policy.