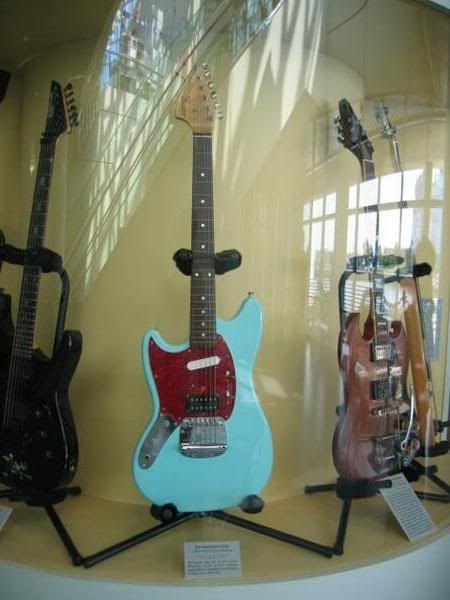 We Need Your Help: What Is This Mystery Guitar?
Guitarz reader Paul Alvarez has contacted me with a mystery, and it's one dilly of a pickle. It concerns a
mystery guitar
that he'd like identified. The photo to the left shows an exhibit at the Rock 'n' Roll Hall of Fame in Cleveland.
Please note, that the mystery guitar is NOT Kurt Cobain's Fender Mustang in the centre of the picture.
That one we can identify.
No, the guitar we are interested in is the one on the right-hand side of the picture. It appears to be a
Gibson SG equipped with a Bigsby and a Flying V neck
- check that pointed headstock. Does anyone know the identity of this guitar and the story behind it? Is it a one-off, or was it part of a limited edition? Also, who played this guitar? Anyone we should know of? The fact that it's on display in the Rock 'n' Roll Hall of Fame would imply that it's a famous guitar or was at least owned by someone famous.
If anyone could tell us what the plaque beneath the guitar in the display cabinet actually says, we'd love to know! There must be a story about the guitar - look - it's got much more info on the plaque than Kurt's guitar has.
Is there anyone in Cleveland who can help, or perhaps someone who's recently visited the exhibit?