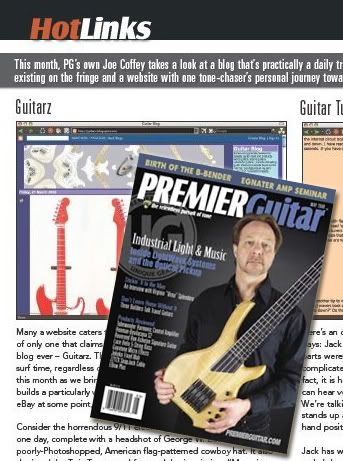 I'd like to say a big Thank You to Joe Coffey and
Premier Guitar magazine
for the half page review of this very blog that appears in their
May 2008
issue. However, I have to add that I'm not always able to post daily. In an ideal world I would do, but it doesn't always work out that way.
The whole magazine is available to view online at the website, but I'm going to want to get my hands on a physical copy of this as a keepsake. Also, it looks like there's plenty of other interesting stuff to read in there (and it's just not the same squinting to read it on the screen). I'm not sure Premier Guitar is readily available in the UK; my local WHSmiths doesn't stock it anyway. If anyone could help me track down a copy I'd be grateful.
I always appreciate hearing that people out there enjoy the blog. I originally started it solely for myself and as a way of keeping track of my guitar-based web browsings. It's great that other people appreciate it too!
By the way, in case you've ever wondered why it's spelt
Guitarz
with a "z", it's because
Guitars
with an "s" was already taken on Blogspot. However that blog was just your common or garden Teen blog and wasn't guitar-specific despite its name. The only other guitar blog I could find at that time (2002) was
Guitar Bizarre
which was in Portuguese. Unfortunately that one seems to have bitten the dust now, which is a shame because whilst I was unable to read the text, it always had nice pictures to drool over.