guitarz.blogspot.com
: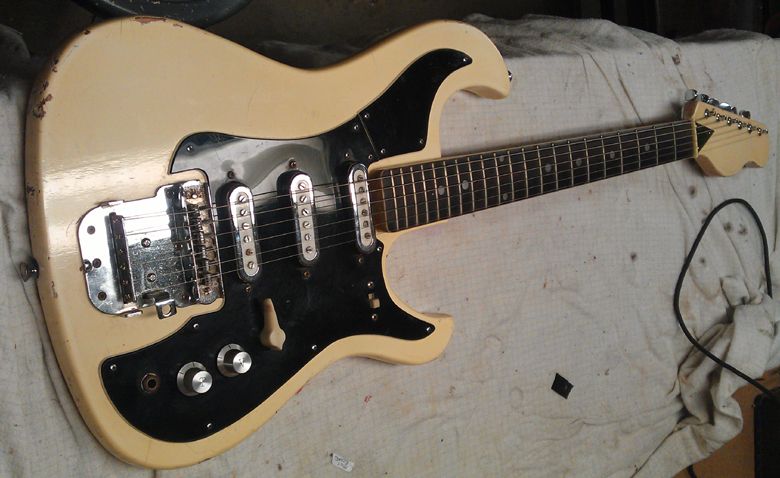 Tyler B writes:
I thought I'd share with you the most recent addition to my collection. Outside of the fact that it is made in Japan, and likely mid-to-late 60s, I can't really tell you more about it's origin. The seller was quick to throw around the word Teisco and while that may very well be accurate, I'm not going to assert it as fact. I've seen the same truss rod cover and pickups on Imperial and Guyatone branded guitars specifically, but coming from a time when building guitars was anyone's game, who knows. There is no trace of any emblem or other branding anywhere; no glue residue, screw holes, etc.

However, I do know it has a definite resemblance to the Burns Bison. The pointed horns, large single coils, and a segmented pickguard really pick it out as an obvious influence.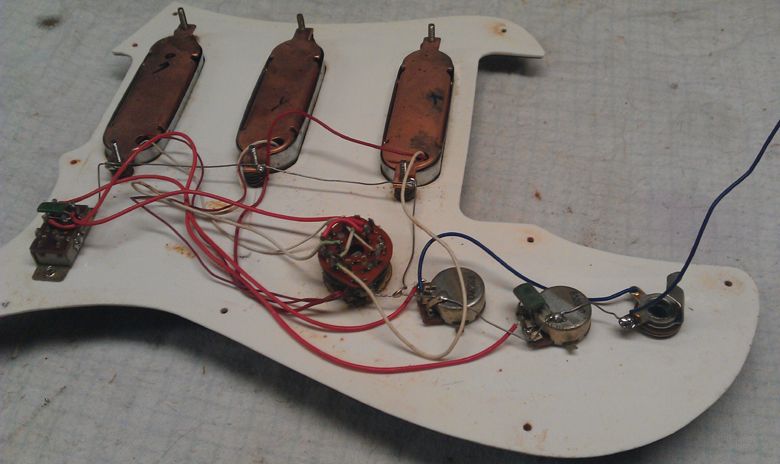 The rotary allows you to select the usual 5 positions on a Strat, and offers a sixth position for all 3 pickups at once. I can't really tell what the slider switch does for sure, though it seems to be wired to the tone circuit (you may be able to see in the picture), perhaps some sort of boost?

Beyond the electronics, the hardware is the usual kind you'd expect on a guitar like this. Sadly, while the bridge is still easily adjustable, the roller saddles have succumbed to decades of neglect and are frozen. That said, without the bar, the vibrato won't do much good anyhow...but it sure is pretty! I also found the neck pocket pretty interesting.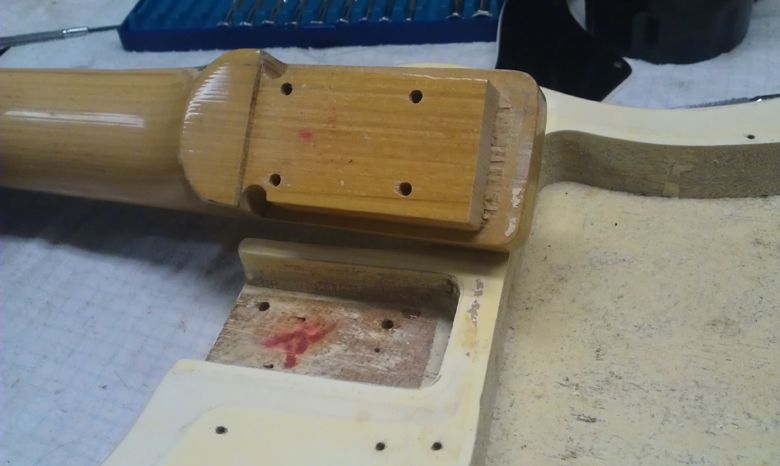 This was a rare one for me, I never seem to get these old things in working order, it was nice to be able to clean it up and go without having to completely restore it! Plays pretty well thanks in part to a straight neck and fairly clean frets, I'm hoping to get it out on stage sometime soon!
Tyler B
© 2014, Guitarz - The Original Guitar Blog - the blog that goes all the way to 11!
Please read our photo and content policy.