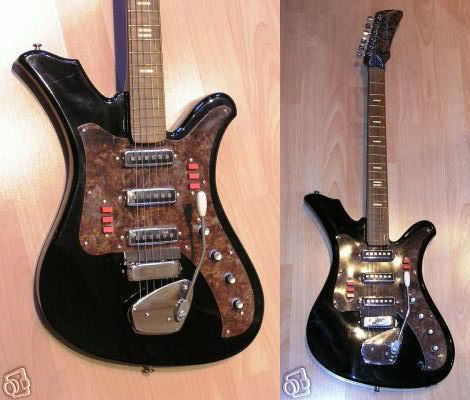 Here's one for all you bargain hunters. There's just a few hours to go on the ebay auction for this rather eccentric-looking Soviet-era Russian
Aelita 1 electric guitar
. I just love stuff like this!
Specifications
:
Body: heavy
Neck: thick
Controls: many
Pickups: 3 single-coils
Action: high
Vibrato: Jaguar/Jazzmaster - style unit
Output jack: 6-pin DIN type (as on all Soviet guitars)
Note that it says the action is high. Personally I'd tune it to an open tuning and use it for slide. Either that or just put it on the wall for display.
Edit
: Sold for £102. I did consider bidding, but the seller quoted me a shipping fee of approx £60 which I felt was a bit too steep for shipping within Europe. I've sent a Vox AC30 head to Madrid for half of that.