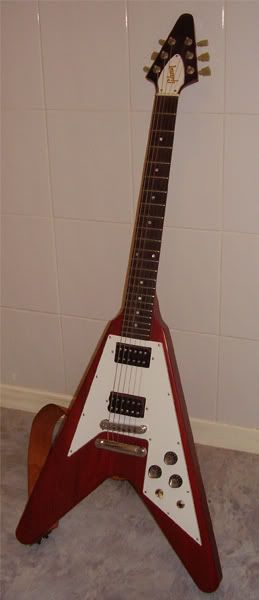 Wow! It's fifty years since Gibson Guitars launched this radical design upon the world, and it's still one of the freshest and most instantly recognisable designs in the guitar universe.
I've read that it was originally designed as a triangular guitar - like a large Russian balalaika - but the shape was thought to be too unwieldy, so a section was cut out of the base of the triangle thus forming the fins of the now legendary Flying V shape.
Granted, it's not a guitar that's really suited to playing whilst seated (although this is possible if you position the lower wing between your legs and hold the guitar in a classical guitar-playing pose), but it's certainly a great-sounding guitar that's bound to get you noticed.
For many years it was a guitar that I loathed (I thought
Accept
had the right idea with their
Restless & Wild
album cover), mainly because it was such a popular choice of axe for many a dodgy metal band. It took the likes of
Marc Bolan
,
Jimi Hendrix
, and
Gruff Rhys
of
Super Furry Animals
to convince me that it was quite a cool guitar after all.
See also:
Gibson Guitar Celebrates 50 Years of the Flying V
from Modern Guitars Magazine.
(Pictured left: my own faded cherry Gibson Flying V).