Play It Straight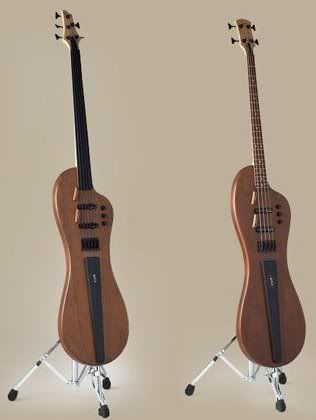 Here's a very interesting-looking instrument. The
Barker Vertical Bass
is Lee Barker's solution to wrist pain from playing regular bass guitar in two bands.
Allegedly the instrument's uniquely chambered construction and the freestanding design are responsible for incredible sustain and clarity, coupled with the fact that the instrument's natural resonance is not dampened by contact with the musician's body.
Unlike other upright electric basses modelled on the double bass, the Barker bass has a scale length of 34 inches, rather than the usual cumbersome 42 inches of the double bass, and thus making it more user-friendly to those more familiar with the bass guitar. It is also available in fretted and fretless variants unlike most upright basses which are usually fretless.