This is my second post about
John Martyn
within the space of four days, which is something for which I make no apologies. When I was checking the links on my previous post about
John Martyn
I clicked through to his website and was very soon found myself placing an order for
The Man Upstairs
DVD which was advertised there. The DVD arrived in the post the very next day and having watched it I can report back that it is sensational. The footage is taken from a concert from 1978 filmed by German TV for the legendary Rockpalast programme. It's an up-close and personal solo performance from John and includes some fantastic versions of some of his best-loved songs. I was open-mouthed in amazement watching him work his Echoplex magic on "Outside In" and "Big Muff", but there's plenty of more traditional styled acoustic playing on songs such as "Bless The Weather" and "May You Never" (which is NOT an Eric Clapton composition, as is often mistakenly believed).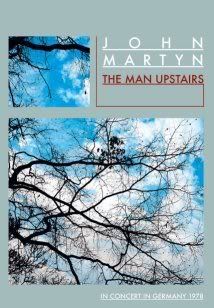 The show is there - warts and all - including lots of banter with the audience, Martyn re-tuning his guitar between songs (different songs being in different tunings) and breaking a string and performing the fastest string change I've ever seen just before "Solid Air". Also of note is a particularly beautiful version of "Small Hours" on which Martyn's Gibson SG makes an appearance instead of the more familiar Martin acoustic with gaffa-taped pickups.
Guitarists will especially enjoy "Seven Black Roses", a song that Martyn developed for showcase in the guitar clubs where everyone is scrutinising everyone else's guitar playing. It's a very visual piece with Martyn performing a succession of on-they-fly key changes by moving his capo up the neck.
An added bonus is the song "I'd Rather Be The Devil" (with more of that Echoplex!) from the same concert which was not included in the original TV broadcast, but thankfully the footage was discovered when the DVD was being compiled.
Anyway, it's a fantastic DVD. Buy it
here
.