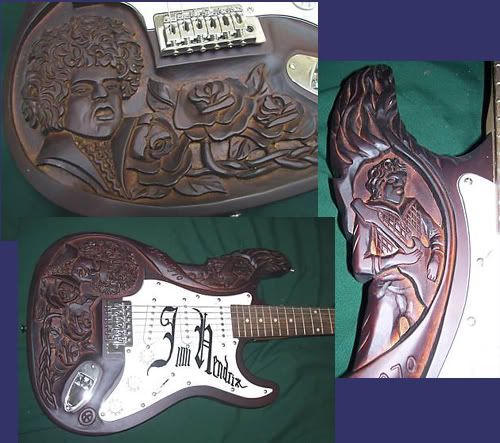 Thank you for all your submissions to this quiz that I posed back on Monday.
Your suggestions as to the identity of the person immortalized in the carving on this
cheap and nasty guitar
included Marc Bolan, Mike Bloomfield, Chris Hillman, Bob Dylan, Mozart, Beethoven, Phil Lynott, Jack Bruce, and - of course -
Jimi Hendrix
.
It's a barely recognizable Hendrix. It looks like he's got mumps or else is chewing several toffees.
If I'd shown you the carving on the upper horn, where a left-handed guitarist can be seen (although it still looks NOTHING like Hendrix), that may have been too much of a giveaway.