guitarz.blogspot.com
: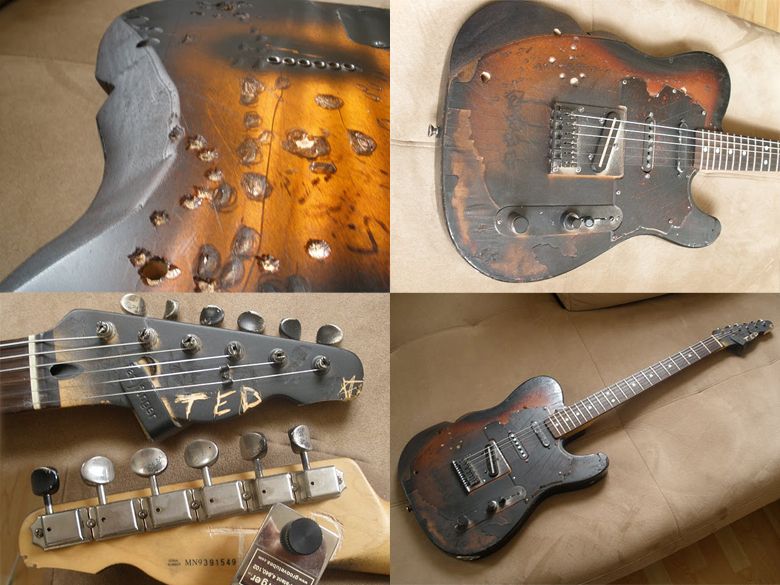 I was going to just let the pictures do the talking, but I want to quote from the eBay listing of this
very sorry-looking Telecaster
:
You are bidding on a very cool guitar. [Who says I'm bidding? I was just LOOKING! - GLW] It's (sic) name is TED. Once it was a boring, almost offensive Mexican Telecaster with a Fishman Bridge. Now it is an edgy monster of a Telecaster that will get you more compliments than you can imagine. This guitar is in perfect working condition despite its appearance. It was disassembled, decorated, and then put back together with a stacked humbucker in the bridge position. I believe the middle and neck pickup are original. You can obtain an acoustic-electric tone with the Fishman, a traditional Telecaster tone, or both at once. Included in this package is a special sustain enhancing device attached to the headstock, the Fat Finger, made by Groovetube. It doesn't actually increase sustain, but it is a good conversation starter. Enjoy bidding on what some consider a work of art.... and yes, that belly cut was done with a sawzall. This guitar does currently need to be setup, but will play great once it is. A fender gig bag is included in the sale.
Truly dreadful.
What kind of compliments is this seller speaking of? "Hey buddy, you made a good ol' mess of that guitar with your electric drill, didn't ya?"
I would find the comment about the Fat Finger sustain device not helping with sustain but being a "conversation starter" hysterical, if I wasn't so appalled at the gross incompetence so clearly on display here.

G L Wilson

NB: Please make sure you are reading this Guitarz post at guitarz.blogspot.com and not on a Scraper blog that copies posts without permission (and steals bandwidth) so as to profit from advertising. Please support original bloggers!