guitarz.blogspot.com
: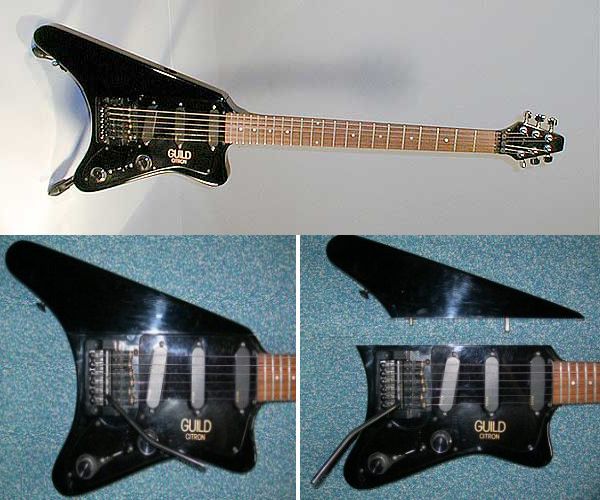 Blimey, for such a little guitar this
Guild X-92 Harvey Citron Breakaway travel guitar
sure has a lot of names! Designed by Harvey Citron (which explains half of the names) it was manufactured slap bang in the middle of the 1980s and has the features that you would expect on a guitar from that decade including three EMG pickups in Strat-like formation, a Kahler tremolo system for extreme dive bombing, and a body shape to keep the average hair-metaller grinning like a Cheshire cat. The clever part - as you will see in the above photo - is that the top fin is removable allowing the guitar to be packed into a diminutive gig bag for travel purposes. And if you're asking yourself why have the top fin at all, I have two answers for you: (1) aesthetics and (2) right forearm support. (Ever play a minimalistic-bodied travel guitar without forearm support? Believe me, it does get tiring.)
The guitar is listed on Gbase priced at $3,430. I appreciate it may be a rare beast but in the current financial climate I can't see anyone snapping it up soon unless they are rabid Guild collectors.
G L Wilson
© 2011, Guitarz - The Original Guitar Blog - now in its 10th year!