guitarz.blogspot.com
: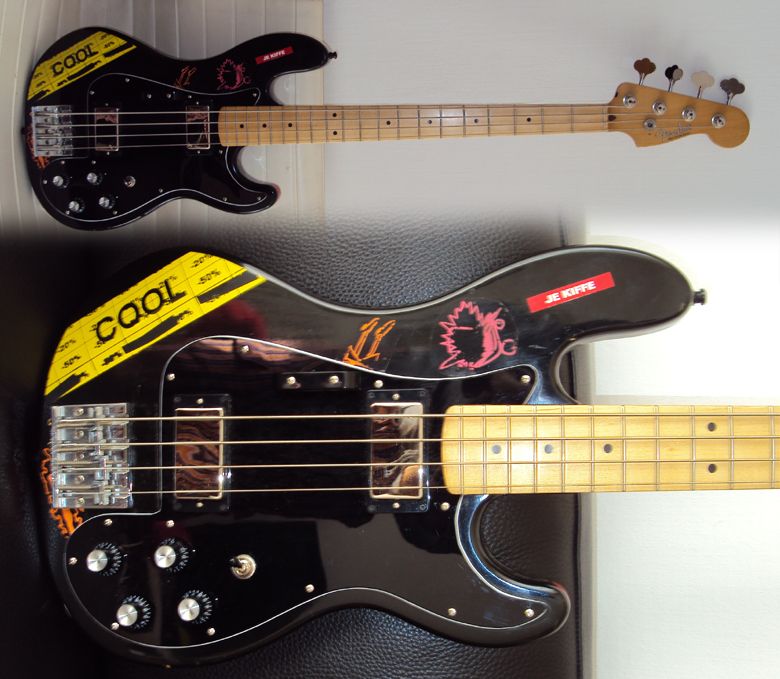 Bonjour M. Wilson;
I'm a long time reader of your blog ... Thanks a lot for this daily "Guitarz minute"!! Here is my bass (and its story):
It started as a US Fender PBass of 1989 bougth in 2000 with Seymour Duncan active pickups (PJ configuration) and with a 22 frets neck.
Over the year, the neck started to bend and "twist" up to the point it was unplayable. So I decided to customize it - or to be honest (and wise) to ask a luthier to customize it, M. Leray in Nantes, France - and here is the result:
neck has been changed for a Mexican Fender PBass "road worn" 50s 2011 with 20 frets
2 pickups Rio Grande Pitbull Humbucking (nickel cover) with selector and Push/Pull tone pots
Bad Ass II bridge
The design is very much inspired from a 2009 Fender Telecaster Bass from the Custom Shop.
Unfortunately, I don't have any record to send you, but trust me, it sounds great!
Musically yours
Thomas
PS: note the "Competition stripes" (which appear on some Mustang Bass) has been replaced by a "Cool Stripe" (better karma)
© 2012, Guitarz - The Original Guitar Blog - now in its 10th year!