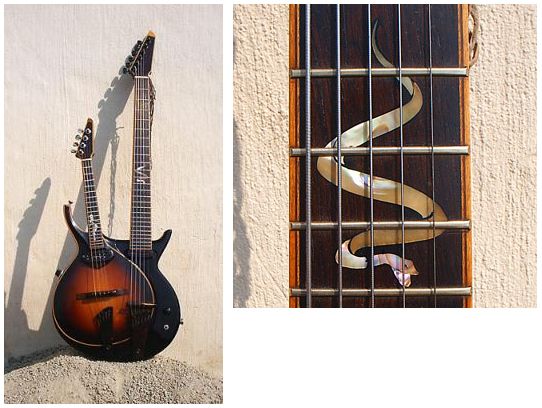 guitarz.blogspot.com
:
I think these "Vintage & Rare guitar of the week" posts have gotten a little out of sync recently, which wasn't helped by me being sick all last week (but thanks again to Bertram for posting in my absence).
So to make up, if in only a small way, this week's guitar of the week gives two for the price of one: a six string electric guitar and 4-string electric mandolin all in one package.
It's a
Mervyn Davis doubleneck
. This is a one-off instrument built by Mervyn Davis himself, a South African luthier who graduated from making oil can guitars as a boy to a fully-fledged maker of fine stringed instruments including electric and acoustic guitars and basses, violins, mandolins and even the occasional oud. You can check out some of his very striking designs at
www.mervyndavisguitars.com
.
He is known for his inlay work which at times has a distinct African flavour with indigenous animals and insects often appearing, as well as soundholes decorated with figures of African bushmen.
I like on this doubleneck how the mandolin portion appears to have its own top set into the top of the guitar, which beautifully defines the concept that here we have two instruments in one.
This
guitar/mandolin doubleneck is currently available for sale via Vintage & Rare
, although you will need to call for a price.
G L Wilson
© 2012, Guitarz - The Original Guitar Blog - now in its 10th year!