Blog Updates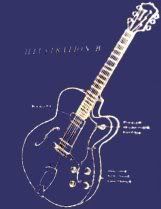 The eagle-eyed amongst you will have noticed that topic labels have begun appearing beneath posts. These should aid cross-referencing and searching through the archives. I've been applying these labels over the last several days, and whilst all the most recent entries have been taken care of, not all of the archives are indexed yet. It's a very long process, it seems.
I couldn't help notice how the blog has evolved over the years. Earlier entries were typically much briefer - often being only a link and occasionally a comment. The topics I covered have changed too. These days I don't feature every piece of guitar-related product news that I can find as there are plenty of other blogs doing that now.
Photographs also used to be rather thin on the ground, whereas these days they are a major feature of the blog. I have to apologise for any "dead" photos in some of the earlier archives. Many of these were hosted on a now long-extinct domain; some have been lost forever and others I still have on my hard-drive, but it would be a major task to re-upload and re-link to them all. I'll try to remedy this situation with some of the more pertinent archive materials such as some of those about projects and my own guitars.
By its very nature, some of the archive material will be incomplete. Things change and stories and websites linked to may no longer exist.
Phew! Who knew that maintaining a blog could be such hard work?