I thought they only made organs...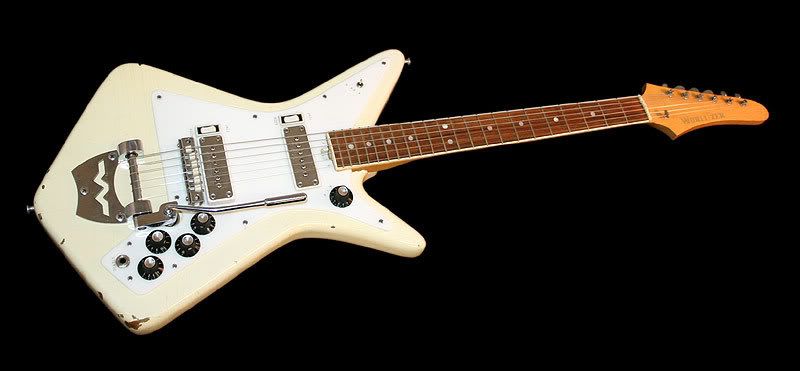 This is a gorgeously funky-looking and allegedly quite rare
Wurlitzer Wild One Gemini Stereo Guitar
from 1966, currently for sale on eBay. I love the shape - all straight lines and points. Also, you can't really make it out in the above picture, but each pickup has a selector switch for
Jazz / Rock
settings (a coil tap perhaps?... except they look like single-coil pickups) and the pickups themselves are engraved with the legends
Channel A
and
Channel B
, I guess, in an effort to be user-friendly. Another nice touch is the Wurlitzer
W
on the Bigsby-style vibrato. (See the
album
while it's still available for close-up pictures).
Update
: The seller contacted me to explain the function of the Jazz / Rock switches:
Hey,

I am the seller on the Wurlitzer Gemini on Ebay. I just thought I would drop you an e-mail.

The guitar comes with two types of caps and that is were the tone difference comes from.

The jazz setting sounds muted like when you turn the tone down on a pickup and the rock setting is bright and P-90 sounding.

Thanks for your time.

Alex