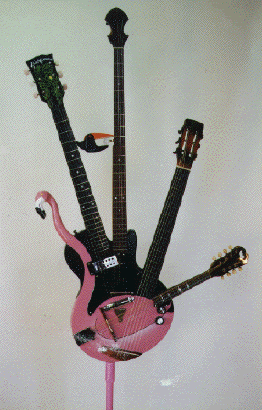 Here's one from the Archives. I originally linked to this one back in the early days of this blog (the first English-language guitar blog and longest-running guitar blog ever, I hasten to add). I'm featuring this wonderful
Flamingo Guitar
again, because it's a favourite of mine and you may have missed it first time around.
In case you think I can't count, this guitar does indeed have five necks - mandolin, nylon string guitar, banjo, electric guitar and a Flamingo neck (of course!) and apparently it is fully playable. (That's a
Bird of Paradise
capo clamped to the banjo neck's 5th string machine head, by the way.)
It was built by luthier
Bernard Lehmann
, maker of fine acoustic and jazz guitars, as well as one or two oddities like this, two dreadnought guitars joined by one neck, a water-powered electric guitar, and a guitar that is part telephone. Wish I had photos of those!