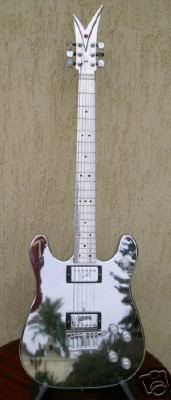 Sonny Bono's Veleno aluminium guitar on eBay
Last week I commented that the metal-bodied
Liquid Metal Guitar
put me in mind of
Valeno
guitars.
Well, here's an actual
original Veleno
as owned by
Sonny Bono
(of Sonny and Cher) for sale on eBay right now with a Buy It Now price of £14,500.
As is customary with all Valenos, the guitar is made entirely of aluminium (yes, the neck too) and has a real ruby inset in the headstock.