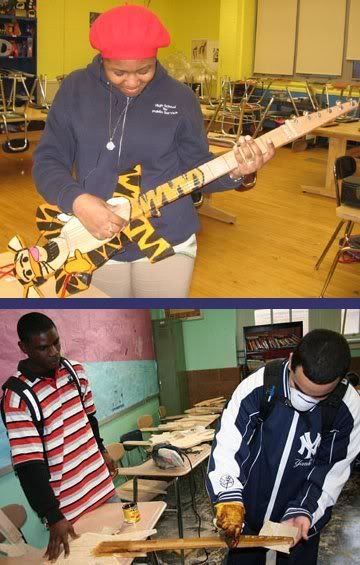 How cool is this? For several years now, Paul Rubenstein has been showing schoolkids in Brooklyn, New York,
how to make electric guitars
.
The kids each design, cut out, build and paint their own six string creations. They even get involved in the electronics side of things, winding their own pickups and building amps too!
Music lessons weren't like this back in my day. We used to have a "music trolley" laden with beaten-up drums, tamborines, glockenspiels, and those most hated of noise-makers, recorders. A ghastly discordant racket was the result. We could only dream about guitars.
What better way to get kids interested in music than to explore the science of how a musical instrument such as the guitar works, to take the hands-on approach and build these instruments, and then to play and record them?
Congrats to all the kids for their cool designs, and to their teacher Mr R for dreaming up the scheme in the first place!