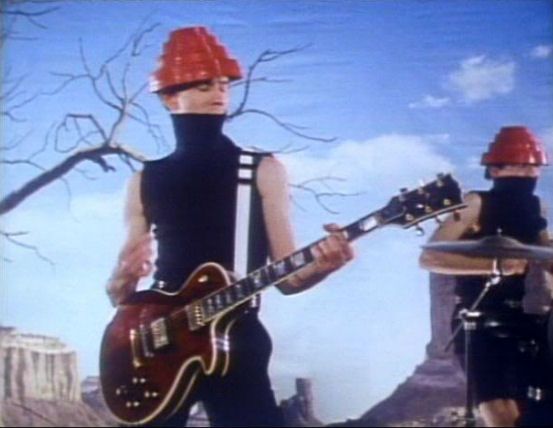 guitarz.blogspot.com
:
The previous blog post reminded me of this - another Gibson guitar with a part of the body sliced off and reversed. The photo shows Bob Mothersbaugh in the video for
Devo's "Whip It"
with a very peculiar-looking Les Paul.
Bob tells the story of this guitar in this
Premier Guitar magazine interview
:
With all the technology being dangled in your face when you hit it big, did you ever use a guitar synthesizer?

Back in 1979, I used a device made by 360 Systems. It was a big box that sat next to your amp and required a special pickup. The 360 Systems people recommended I use a Les Paul, and at the time I was horrified—I thought Les Pauls represented arena rock, long hair, and Puka shells. But I got a Les Paul and took a jigsaw to it with the intention of making it look like a skull. I cut the little horn off at the cutaway and flipped it over backwards and thought it looked a lot better. The 360 was a horrible synth and really didn't sound good. I only used it for one tour.
Read the full interview
here
.
G L Wilson
© 2011, Guitarz - The Original Guitar Blog - now in its 10th year!