guitarz.blogspot.com
: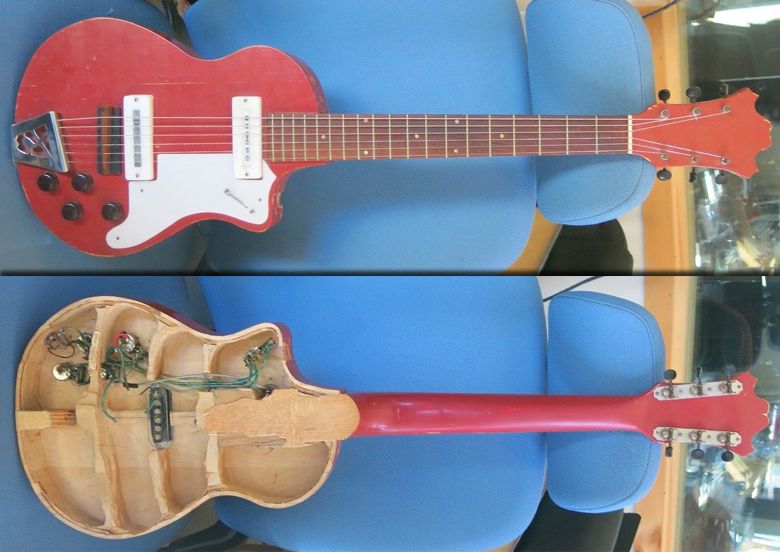 Here's an unidentified
1950s electric guitar
about which we know little. Ther seller tells us:
It's a vintage 1950's electric guitar from an unknown maker. It is clear that the builder was attempting to copy the work of Paul Bigsby and the homemade pickups are very similar to an early R.C. Allen guitar that I own. The only other clue I have is a friend of mine who has a guitar that was clearly built by the same guy. His is made out of much fancier birdseye maple but has the same body, headstock and construction as well as the same homemade pickups and tailpiece. So we know that this builder made at least two guitars. I assume that he probably made a few more. This is crude but pretty great.





As you can seen. A previous owner removed the back!!!! He also re-wired the guitar with new pots and mostly new wiring. Currently only one pickup is hooked up and it has a ground buzz but actually sounds really cool. Somewhat Strat like only with a more refined, hi-fi sound. The guitar is playable right now but you would obviously want to have a back put on it, the wiring gone through and a new bridge made for it. It's being sold as a project or just as a collectable for the early vintage electric guitar collector. If anyone has any more info on the builder, please let me know.
Does anyone out there have any further info on this guitar?
Currently listed on eBay with a Buy It Now price of US $650.
G L Wilson
© 2014, Guitarz - The Original Guitar Blog - the blog that goes all the way to 11!
Please read our photo and content policy.