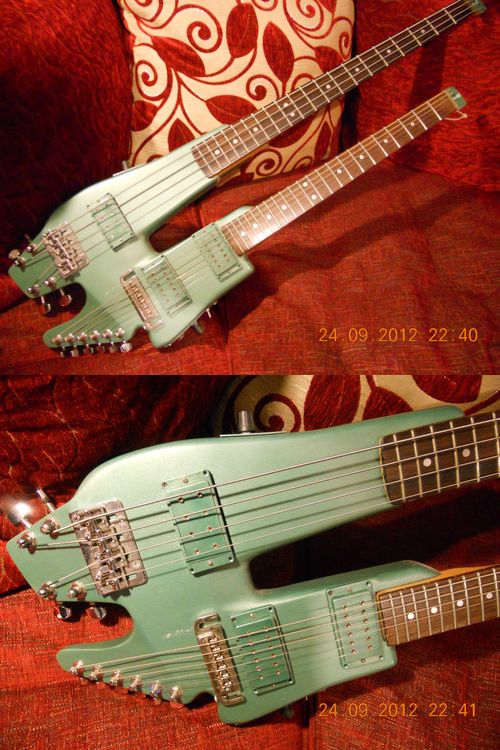 guitarz.blogspot.com
:
Unfortunately I was too slow in getting to feature this
headless doubleneck guitar/bass combo
before the eBay auction finished. It's not the most elegant of creations but it's certainly a headturner. I'll let the seller describe it for you:
This is a working instrument, built in the early eighties, intended to be part of a Rush covers band. In spite of being a bit rough at the edges, the visual impact of this machine on stage is spectacular.





The necks for this instrument are Japanese, from a company called Westone. Both necks are very well set up with low actions and good intonation. They still feel in very good condition, as this certainly hasn't been played much for a 30 year old axe!





The body is all mahogany [...] The machine heads are all Schaller M4 and M6 chrome [...] The pickups are 80s DiMarzio models [...] The guitar has two Super II humbuckers, made popular by Paul Stanley, the guitarist in Kiss [...] The bass has a "Model G" humbucker, which was the same as the famous Wal bass Model 1, but packaged for a standard guitar pickup mount.





Both sides have their own volume level knobs, which are also coil tap pull switches. The guitar additionally has a 3 position mini-toggle pickup selector switch. There is a single stereo jack output keeping the necks as separate signals...
This instrument eventually sold for £365.76 on eBay UK after 26 bids.
G L Wilson
© 2012, Guitarz - The Original Guitar Blog - 10 years and counting!