guitarz.blogspot.com
: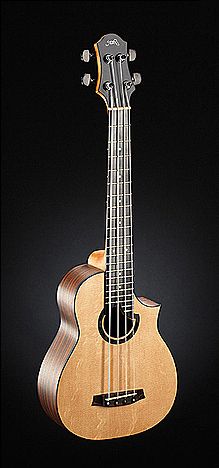 Our Vintage & Rare Guitar of the Week this week isn't technically a guitar at all, it's a bass ukulele. I'm aware of the Kala U-Bass (I have one in my arsenal and enjoy recording with it), but if the above video is anything to go by I suspect it has been surpassed by the
Stevens Custom Guitars Bass Ukulele
from Germany.
The secret of Kala's U-Bass is in its polyurethane strings, and here with the Stevens bass uke, once again the custom-made strings from Pyramid strings must surely lie behind this tiny instrument's huge sound. The
Stevens Guitars website
tells us that the strings are "similar to classical, wounded, silverplated strings and custom made for our instruments". I'm not sure if that means that they have a nylon core as on classical guitar strings, but I think that would be my interpretation.
Available in fretted and fretless versions, the Stevens Custom Guitars Bass Ukulele is available via Vintage & Rare for €1100.
For comparison check out also the
Kala U-Bass
.
G L Wilson
© 2012, Guitarz - The Original Guitar Blog - 10 years and counting!